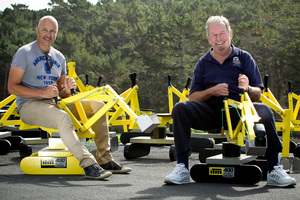 David Hutcheson has a simple philosophy when it comes to kids: treat them like the adults you want them to become.
That means treating them with kindness and respect. And building them new ride-on diggers after their old ones are found to be dangerous.
Dangerous? That was the verdict for the popular yellow ride-on digger that had entertained generations of children at the Takapuna Playcentre for 44 years.
Its rusted body and loose parts saw the powers that be deem it "unsafe".
So, a year ago, retired Hutcheson, a grandfather, devoted his Unsworth Heights garage to building two new diggers for the playcentre.
A few months later, one of Hutcheson's wooden yellow and black replacements, with stainless-steel bucket and non-toxic paint, was under the command of a young playcentre member.
"You should have seen his face. It would have lit up Queen St."
Hutcheson, 66, got such a kick out of the response he decided to make 20 more diggers, one for each playcentre on the North Shore.
He again enlisted the support of his colleagues at the North Harbour Rotary Club, and a slew of businesses that donated materials.
More than $5000 and 982 volunteer hours later, the diggers are ready to be relocated to their new homes.
Rotary North Harbour president-elect Peter Lietz says they will be presented at a special family event at Takapuna Beach on May 12.
The hard work is done and Hutcheson, a former Vietnam War veteran and insurance salesman, says he can't wait to hand over the diggers.
"Even at this young age, they will teach them dexterity, they will teach them to think. And anyway, you can't say no to kids. This is a love thing, every piece of this has lots of love in it."