The mum-of-two reflects on the hair-raising charity fundraiser that took her flaxen tresses to new heights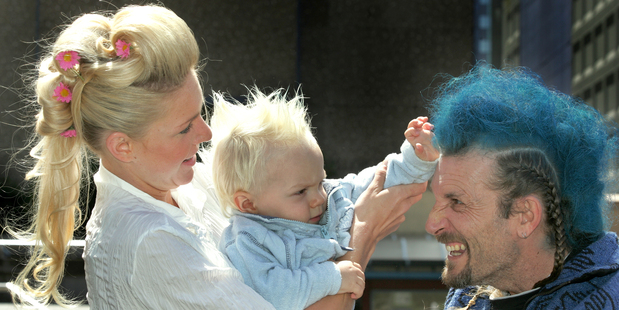 Nine years have passed, but Aja Rock still cringes at the photo.
It was 2004 and the socialite and mum of baby Brooklyn had volunteered their hair as part of a fundraiser for Save the Children.
Rock and 16-month-old Brooklyn joined other Kiwi celebrities in Aotea Square, in central Auckland, where their hair was teased, curled and sprayed into wacky styles.
Rock, for the record, liked her do. But she still shudders at the memory of the New Zealand Herald photo taken that day of herself, Brooklyn and Westie comedian Ewen Gilmour.
"I really like my hair, but the double chin, not so much.
"It'd be nice if they could have photoshopped my chin out."
Looking at little Brooklyn's spiked-up hair still makes her smile.
"He was young and having fun, he loved all the colours.
"My little man, his hair-do looks quite cool. I can't believe how white his hair is.
"He's quite dark now."
The tot's spiky creation was certainly less work to wash out than hers was.
Rock remembers spending 40 minutes in the shower afterwards trying to condition out the heavily coiffed style.
The cause was worthy, and the exercise tame compared to some of her other charity ventures, says Rock.
"I've done a lot of crazy things for charity - bodypainting is right up there. I'm a sucker for charity."
Rock, who also has a 2-year-old son named Hendrix, was still proud as punch of the part her eldest child played in helping Save the Children all those years ago.
She's pretty sure Brooklyn, now a rambunctious 9-year-old, would happily do his bit again.
"I reckon he would.
"He's fearless and he loves to have fun."