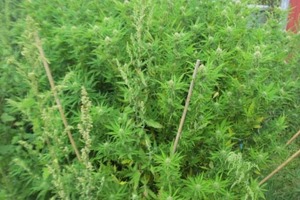 The drought has done the Gisborne and Hawke's Bay regions a favour by considerably reducing the size and quality of the annual cannabis crop, says eastern police district organised crime head, Detective Senior Sergeant Mike Foster.
Police conducted a marijuana swoop from the end of February and into the first two weeks of March, using a fixed-wing aircraft and a helicopter.
"We seized and destroyed 7500 plants across the Hawke's Bay, Wairoa, Gisborne and East Coast districts, with about 4000 of those plants growing around Gisborne and on the East Coast," Mr Foster said.
"Across the whole police district that's down about 4000 plants, spread pretty widely over the district," he said.
The estimated street value (based on $1000 a plant) is still significant - $7.5 million in total and $4 million in this district.
Police also executed 150 search warrants of homes and other properties across the police district as part of the drugs operation. A further 1500 cannabis plants were seized and destroyed as a result.
Ten kilograms of dried cannabis were also seized during the warrant searches.
The estimated value of the warrant search seizures was $1.5 million.
Mr Foster said the drought was a significant contributing factor when it came to the size and quality of the cannabis crop.
"Many of the plants we found were of a very poor quality because of the drought, he said. I feel the drought did the community a favour this year. The impact on drug production can only benefit the community.
It is expected the drop in crop size will impact on the prices paid for marijuana this year.
"It's going to be interesting to see over the next couple of months what information we get when it comes to prices," Mr Foster said. Cannabis could be a lot more expensive this year. We have information already that some people are trying to access it outside of the district, which is the first time I've ever heard that.
To his knowledge the cannabis crop had not been affected across the entire North Island despite the widespread nature of the drought. I believe in some places the crop was better than normal but in other districts like ours, it was the poorest crop growers have had, he said.
There were 119 arrests made across the eastern police district as a result of the drugs operation this year.
"That's also down on previous years. Some minor growers were warned at the discretion of the officer-in-charge. Other growers were charged with a range of cannabis-related offences.
There was no breakdown available for the Gisborne-East-Wairoa area when it came to arrests made.
"The operation is concluded but we are still focused on targeting drugs, drug growers, drug offenders and drug suppliers," Mr Foster said.
"The public should rest assured that we will be relentless on those people right through the year, not just in the cannabis-growing season."