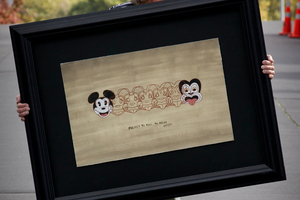 Dick Frizzell's famous Mickey to Tiki Tu Meke painting had some of the elite of Maoridom hopping mad in 1995.
A trained animator, he painted the watercolour for the Life Education Trust children's charity in 1995.
It sold for $4000 then, but is expected to fetch between $60,000 and $120,000 during an online auction on the Ocula Black marketplace site which closes on May 14.
Frizzell spied the watercolour - thought to be the country's most recognisable and reproduced artwork - hanging in the auctionhouse yesterday, and it was like meeting an old friend. Still, he was taken by surprise by the size of it.
"So that's it. Something in the back of my mind tells me I did a smaller work. The whole thing's got me bamboozled," he joked.
There were some who hated his work. They thought it was disrespectful and that he shouldn't be mucking around with cultural motifs.
"(The late film director) Merita Mita was there with a posse and I can tell ya they were really hot on it. My knees were going like a bullfighter waiting for the bull to come out. She called me a spiritual assassin."
The point of it was wrapped up in New Zealand identity at the time - that culture flows both ways and to ring-fence one was to cut off its creative oxygen, that there could be freedom in being a bit reckless and that Pakeha people had a stake in things Maori and could be proud of it.
"The cultural shift is that you can now go into these shops and get wall-mounted clocks that look like a tiki or the (NZ) Warriors logo. It doesn't have to be constantly based in the traditional form. I don't think at any point it cheapened Maori art or the tiki. It's not the image, it's what it says," Frizzell said.
He credits music producer and artist DLT (Darryl Thompson) with the tagline tumeke, which colloquially means "too much". DLT liked the painting and said as much.
Frizzell is proud that the image has become part of kiwiana. Comedian Billy Connolly wore it filming for a television series and Frizzell is always catching it in magazines.
"It's a bit like Ray Columbus having to sing She's a Mod every time he gets on stage. But for me it's a privilege ... I don't mind being branded with this. It's had this huge cultural adventure and I never anticipated that."
Art commentator Hamish Keith called the work a Kiwi icon.
Frizzell said his use of the tiki had got people talking over the years.
"It's a visual pun and there are so many conversations you can have about it. It's a favourite with many people, particularly children."