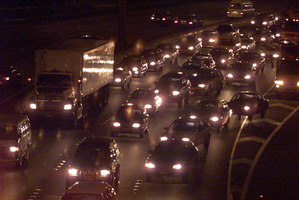 Gridlocked rush-hour traffic is backing up on Auckland's southern motorway following a crash this afternoon that left one person dead.
The driver of a van died after crashing into a lamp post on the motorway between the Te Irirangi Dr and Otara exits on the northbound lane at 4.15pm.
Another vehicle was also involved in the incident.
Two people, one in a serious and the other in a moderate condition, were taken by ambulance to Middlemore Hospital, said northern fire communications shift manager Jarron Philips.
The motorway remains closed northbound from State Highway 20 between the Manukau and Otara exits and gridlock in the area is escalating as city workers return home.
"It's congested all over, in both directions, and it just continues to build up,'' said a northern police communications spokesman.
Police have received complaints about traffic delays in southbound lanes of the motorway and are warning of considerable congestion.
Motorists are requested to avoid these areas or face long delays. Northbound traffic is best to use State Highway 20 but this is likely to also become congested.
It is not known when the motorway will fully reopen.
Serious crash investigators are at the scene.
- APNZ