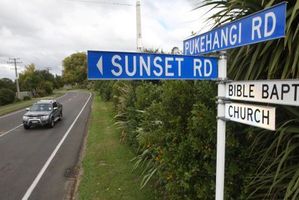 A man is in a critical condition after a car crash in Rotorua, believed to be caused by street racing.
The crash happened about 10pm on Wednesday at the intersection of Pukehangi Rd and Sunset Rd.
Senior Sergeant Joseph Cairns police received calls from members of the public about two cars racing on Pukehangi Rd.
"All emergency services were then required as one of the cars had crashed."
One of the cars had left the road and crashed into a metal fence. Mr Cairns said the second car involved had stopped at the scene but the driver had fled before police arrived.
"He was caught a short time later and is now assisting police with their inquiries."
A St John spokeswoman said paramedics treated one man at the scene and he was taken to Rotorua Hospital in a critical condition.
He was later transferred to Waikato Hospital.
Mr Cairns said speed and alcohol were both factors but police were still hoping to talk to witnesses who saw the cars racing before the crash.
He also urged members of the public to drive to the conditions, to stay within the speed limit and to not drink and drive.
Rotorua Fire Brigade senior station officer Cameron McEwen said crews were called to the crash to help get the man out of his car. Mr McEwen said two fire appliances went to the crash, one to clear and manage the scene while the other crew used cutting equipment to free the driver from the car.
One Pukehangi Rd resident said she heard the crash happen. She said she heard an "awful loud bang" and then sirens.
She said she often heard or saw crashes on that stretch of road.
"I think it is because cars just drive way too fast along here," the resident said.
Anyone with information should contact Rotorua police on (07) 348 0099.
For more articles from this region, go to Rotorua Daily Post