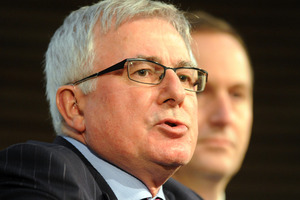 Trade Minister Tim Groser's bid to head the World Trade Organisation has failed.
A spokeswoman for the minister has confirmed to APNZ this morning that Mr Groser had withdrawn his bid.
She said the details of why his bid had been withdrawn would be announced tomorrow with a released from Geneva.
News agency Reuters reported this morning that Mr Groser had been encouraged to withdraw his bid to become WTO director-general after not gaining enough support from the WTO's 159 members.
Diplomatic sources were quoted as saying the race had come down to either Mexico's Herminio Blanco or Brazil's Roberto Azevedo.
The New Zealand Government has spent a lot of money supporting Mr Groser's bid.
In recent months he has travelled overseas extensively lobbying for support.
It emerged last week that Mr Groser had racked up travel expenses of almost $260,000 in the first three months of the year as he lobbied for the WTO top jobs.
The spending topped that of Foreign Affairs Minister Murray McCully, who spent $130,000, and Prime Minister John Key, who spent $100,000.
- APNZ