Newborn left with concrete in mouth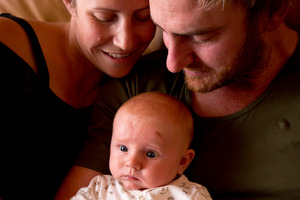 Thinking her husband was dead, Nina Bartlett scrambled out of bed to get to her newborn baby seconds after a stolen car ploughed through their bedroom at 150km/h.
It was pitch black and 7-week-old George was not making a sound as his mother approached his bassinet.
Just moments before, she had been half-asleep next to her husband, Rob Brown, preparing to get up to feed her baby when she heard the screeching of tyres precariously close to their Mt Eden home.
"I'm not exaggerating, I thought, 'We're all going to die'," a shaken Ms Bartlett said last night.
A BMW slammed into the bedroom.
"We should be dead ... but it was like George literally had a bubble of protection around him," she said.
"I thought Rob was dead. The impact shook the entire house.
"I ran to get to George and there was a large slab of concrete on top of him, and there was something in his mouth ... There was dust all over him."
Mr Brown, a producer for TV3's 7 Days, had been sleeping on the side of the bed closest to the road and was covered in rubble, while George was on Ms Bartlett's side of the bed.
Police were on the scene within seconds and Ms Bartlett handed George through the debris to a policewoman outside.
"She turned him over onto his front, patted his back and a large piece of concrete came out of his mouth."
It was about the size of an adult fingernail.
Mr Brown said he woke up screaming, "Where am I?" He escaped unscathed.
The family were taken to hospital to be checked over.
"The neighbours were screaming. It was the longest ambulance ride of my life. I never want to see another BMW again," Mr Brown said.
George escaped with small grazes on his forehead and on his right cheek.
"The nurses were in love with him ... He's been so mellow, he hasn't cried once," Mr Brown said.
Last night, the couple were recovering at the home of Ms Bartlett's parents in Titirangi. George was bouncing happily on his father's lap when the Herald visited.
The newborn has already been in the spotlight - he features at the beginning of the new 3 News promo.
The crash destroyed the road-facing wall of the couple's bedroom, sent debris flying through the house and cracked four other walls parallel.
Ms Bartlett's Mazda was also written off in the crash. It had been parked in the middle of the driveway outside their bedroom window and was shunted several metres by the out-of-control BMW.
The couple bought the car just before George was born.
Yesterday, builders boarded up the wall and the couple, who bought the Mewburn Ave home two years ago, were working with their insurance company.
Mr Brown said he was so grateful to the officer who helped George.
"That policewoman is a legend."
The incident started after police officers spotted the driver, described by witnesses as a young Asian man, travelling at an excessive speed on nearby Dominion Rd.
They signalled for him to stop but said he failed to comply and took off down Mont Le Grand Rd at speed.
At the bottom of the street, he failed to take a bend, mounted the kerb and slammed straight into the house.
The police serious crash unit examined the scene yesterday and had the BMW towed mid-morning.
An investigation into the crash is ongoing and while it is too early for police to give specific details, they confirmed that the driver, who was also taken to hospital with minor injuries, faces charges of dangerous driving causing injury and failing to stop for police.
A blood sample was also taken from the driver to ascertain whether alcohol was a factor in the collision.