As Auckland's Asian population heads toward 25 per cent, a growing group of businesses on the North Shore is set to become an ethnic enclave to rival Dominion Rd's China town and Sandringham's Indian precinct.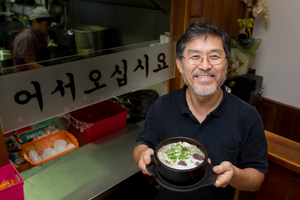 When Korean mother Ye Jin Lee feels homesick, she'll spend a day at Rosedale Rd on Auckland's North Shore.
"It's where I can find my comfort food, and where I can be understood speaking in Korean," said the 37-year-old who arrived here in January.
Mrs Lee came to New Zealand to accompany her 12-year-old son, who is an international student at a local intermediate school. The businesses she patronises on the street include restaurants serving Korean speciality dishes, such as sundaeguk (sausage made with pig intestines, barley and pork blood in soup) and agujjim (braised spicy monk fish).
Lunch with friends followed by a massage or a bath at a jjimjilbang (Korean-style public bathhouse) and then shopping for groceries at a Korean mart typifies a day out on Rosedale Rd.
"Auckland is a different world to Seoul, but I am so happy to have discovered Rosedale Road because it makes me feel at home," Mrs Lee said.
Massey University sociologist Paul Spoonley said the Rosedale Rd area represented a "new wave of ethnic precincts" and was probably the first one that did not represent the Chinese or Indian communities.
About 70 Korean-owned businesses now operate in the area, offering services from restaurants, bars, education and immigration to a bathhouse and other professional services.
"There have always been groups of Korean businesses in Browns Bay and Wairau Rd, but this is larger and more diverse in terms of the businesses," Professor Spoonley said.
As head of the Integration of Immigrants Programme, Professor Spoonley has surveyed other ethnic precincts such as Dominion Rd, Northcote, Somerville and Sandringham, which were predominantly Chinese or Indian.
An area is defined as an ethnic precinct if there were 50 or more businesses that are owned by members of the same ethnic group and the Rosedale area would "fit the bill", Professor Spoonley said.
"Most of Auckland's Koreans live in North Shore suburbs and they want places where they can shop and eat, and secondly, there are issues with access and cost," he said. "Having a co-ethnic landlord is sometimes as important as the cost of the premises."
However, unlike Dominion Rd, where an increasing number of visitors are non-Chinese, Rosedale Rd is very much a hot spot just for the local Korean community. "I'm not sure even if many Shorites would be aware of it," Professor Spoonley said.
"For the moment it's an important destination for the Korean community rather than the larger and more visible Dominion Rd."
Last year, New Zealand First leader Winston Peters called for an end to ethnic precincts, saying they showed these immigrants were failing to integrate. However, Professor Spoonley said ethnic precincts were common around the world, and provided new immigrants with a point of contact and comfort.
"They are not a sign of failure, they help immigrants settle," he said. "Given the size of many of these ethnic communities in Auckland, ethnic precincts are not short-term phenomena and they are here to stay."
Professor Spoonley projects Asians will make up about 25 per cent of the Auckland population within the next five years.
David Cho, 52, owner of Tulbo, a restaurant specialising in sundaeguk, said he didn't see the need to have his restaurant signs translated into English.
Mr Cho took over the business just two months ago, and didn't think it could survive in any other location without the same concentration of Korean visitors and consumers.
"Most of my customers are Korean and I don't think many Kiwis know how to eat this Korean traditional soup," he said. "I'm not sure how many non-Koreans will be keen to eat a dish that contains pork blood and pig intestines."
Simon Kim, 40, who owns O'Kims Bar in Rosedale Plaza, said licensing restrictions made it difficult to replicate Korean "drinking culture".
"In Korea, people like to take their time drinking and eating bar snacks after work until the early hours in the morning," Mr Kim said. "But we are required to close our bar at midnight. It seems unfair that in other ethnic precincts, like Dominion Rd, restaurants and drinking places can open until the next morning."
Mr Kim's bar plays soft lounge music, and serves Korean bar snack food such as deep fried and spicy chicken nibbles with Korean beer, soju (a distilled beverage similar to vodka) and makgeolli (a brew made from wheat and rice).
Korean Albany Sauna manager Patrick Wong said the business was starting to attract customers outside the Korean community. "We are seeing more Chinese and even Russians coming to our bath house, and I think an increasing awareness of Korea and the Korean culture plays a part," said Mr Wong, who was managing the jjimjilbang business on behalf of its Korean owners.
Auckland Council spokesman Glyn Walters said the council did not have a single view or opinion about Korean businesses opening in the Rosedale Rd area. "Of course we generally welcome economic development and the opportunity and vitality it brings to Auckland," he said. "But there is currently no council plan to promote Rosedale Rd as a Korean ethnic area."
The manager of North Harbour Business Association, Janine Brinsdon, said the association promoted the formation of business clusters where "people who lived locally could be employed locally".
"All clusters are good and I don't think the behaviour of the Koreans is in any way different to a lot of the other businesses," Ms Brinsdon said. "A lot of the businesses that operate in business parks are small, they're family orientated and often in the start-up phase, and that's not specific to Koreans."
Rebecca Kim, senior executive officer at the Korean Consulate, said 2011 estimates revealed there were about 25,000 Koreans in Auckland. A new $1.5 million Korean community centre in Hillcrest was to be officially opened on May 4.
The consulate was in the process of updating the Korean population estimate, and the new figures - expected to show an increase - will be released next month.