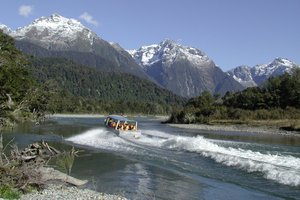 Plans for a controversial highway linking Milford Sound and Haast via the Hollyford Valley have failed to win the support of Southland district councillors.
In a resolution drafted "to give councillors something to debate", council chief executive Dave Adamson recommended the concept be supported in principle, providing the backers gave more information, including a business case showing there was no financial risk to ratepayers.
However, councillors at an activities performance audit committee meeting yesterday decided they could not support the resolution and could not even consider supporting it without necessary detailed information.
Mayor Frana Cardno said she was "extremely nervous" about giving support to a road - "half of which could be inherited by the council in 30 years" - without knowing the full implications of giving her support.
Others echoed that view. Councillor Wallace Jack said he was "struggling to make a decision", while councillor Paul Duffy said he was not prepared to support the resolution "until he got answers".
The highway being proposed by Westland Properties (an organisation owned and controlled by the Westland District Council) in partnership with an as-yet-unnamed foreign investor would be between 108km and 138km long, with almost 80km within Southland.
Backers say it would cost about $220 million to build and would be a major tourist route, cutting 335km and four or five hours of travelling time from the present journey between Haast and Milford Sound.
The cost of construction and ongoing maintenance would be met from tolls, estimated at $27 million or more annually, depending on charges and the number of motorists using the road.
Councillors yesterday were sceptical of the estimate and whether tolls would raise enough for construction and maintenance. They were also concerned liability for the road might fall back on the council and therefore burden its ratepayers.
Westland Properties made a presentation to the council in December and had then been asked for further information to support its estimates, councillor Diane Ridley said.
"We wrote them a letter at Christmas ... and we haven't even had the courtesy of a reply," she said.