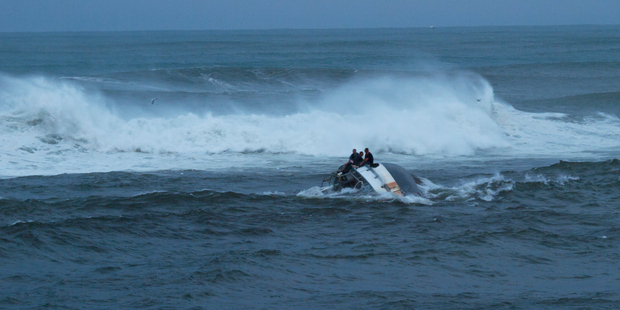 Maritime New Zealand says it is working with the fishing industry to develop new safety systems that may make wearing lifejackets compulsory when crossing bars such as the dangerous Grey River.
The call for lifejackets was made last week, immediately after the 45th fishing boat drowning on the Grey River bar, when the Lady Anna sank and its skipper Nicholas Eklund was caught in the turbulent waters. His two crewmen were rescued when lifebuoys were thrown to them from the riverbank. None were wearing lifejackets.
Maritime NZ media communications adviser Michael Flyger said it was possible an instruction on using lifejackets in such situations could be introduced in July next year.
"We are still in consultation with those in the fishing industry and while the new regulations are still being developed the use of lifejackets could well be re-addressed."
Presently the national code of practice under Maritime NZ guidelines states that before crossing any bar entrance skippers should ensure that everyone on board is awake and dressed, and have lifesaving equipment easily accessible and ready for immediate use.
However, Heather Bradley speaking on behalf of Mr Eklund's widow's family, said today that a safety device such as a lifejacket would hinder a fisherman's survival. She said there were good reasons why lifejackets were not donned.
"When a vessel rolls over, wearing a bulky flotation device prohibits or severely impedes escape.
"If a fisherman is trapped inside the wheelhouse a floating device (lifejacket) would keep the person trapped against the upper part of the vessel and they would be unable to pull themselves down to escape."
She also said that escape routes such as doors were small, and a bulky lifejacket would make it difficult to get through.
The Lady Anna's life raft did not inflate as the water the boat sank in was not deep enough.
"Life rafts do not inflate in shallow water. The hydrostatic releases on the rafts work in 5m or more of water."
Mrs Bradley said that a better option would be to enforce the use of the stormy seas type of lifejacket, which were not bulky and self inflating.
"These types of lifejackets are not inflated until the wearer is in the water and clear of the boat and the wearer pulls the inflating cord themselves."
- APNZ