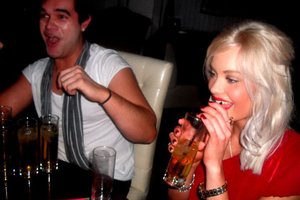 The appeal by the former boyfriend of Emily Longley to have his conviction for her murder quashed has been dismissed.

Lawyers for Elliot Turner asked the Court of Appeal in London for his conviction to be set aside by arguing that secret surveillance during the police investigation recorded conversations that should have been protected by legal privilege.

While the bugged conversations in question were not played to the jury who convicted Turner last May, Anthony Donne QC said that all the secret recordings were tainted as "fruit of the poisoned tree" as a result and should not have been given in evidence at the trial.

However, the three judges sitting at the Royal Courts of Justice took just five minutes to consider their decision before dismissing the appeal.

Their reasons will be delivered at a later date.

The 21-year-old Turner smirked at hearing the news, shaking his head and muttering something to the guard who led him from the dock back to the cells.

The decision means Turner will serve at least 16 years of a life sentence after being found guilty last May of fatally strangling Ms Longley in a jealous, drunken fit of rage.
Ms Longley, who moved to New Zealand when she was 9-years-old, had only recently returned to the United Kingdom before she was killed. The former Westlake Girls and Takapuna Grammar student was then 17-years-old.
Her separated parents Mark and Caroline Longley made the long-haul flight to London together for the appeal and were present in the public gallery of the courtroom last night.

Outside court, the pair spoke to media of their relief that the appeal was dismissed - meaning they would not have to sit through the agony of another trial.

"Relieved and delighted," said Mr Longley, when asked for his reaction. "It's two years ago since we saw Emily alive. In those two years Turner's managed to have a huge amount of influence over our lives.

"And that's over now. We can forget about him, remove him from our lives and go on to remember Emily as the bright, fun-loving girl that she was."

Mrs Longley said it was important to her to be present in court for the decision.

"I just wanted him to look across and see something of Emily in me; the light that he snuffed out. She goes on living through us. I didn't expect to hear any remorse from him."
Re-living the details of the case had been difficult for both parents, but hearing that the appeal had been dismissed provided a small amount of closure.
"It's the end of thinking about Turner. It's not the end of grieving for Emily," said Mr Longley.
"Our lives are very different now; it's about re-adjusting to life without Emily. We just carry on and try to deal with what Turner did. Which was murder an innocent 17-year-old girl."

A self-styled 'gangster' with a narcissistic personality and a playboy lifestyle, Turner was found guilty of murder after a five-week trial which ended in May last year.
The sentencing judge told him to put away thoughts of "champagne, Bentleys and girls" while spending at least 16 years in prison.
His wealthy jeweller parents, Leigh and Anita Turner, were also jailed for 27 months each for perverting the course of justice.
Ms Longley was strangled in Turner's bed in his parents' home in Bournemouth, south-west of London, after his obsession with her spiralled out of control in May 2011.
The trial jury was told that Turner was jealous and possessive of his girlfriend and "flipped out" one night during a drunken argument.
However, there had been a string of earlier incidents where Turner had acted aggressively or violently towards Ms Longley, to the point where he made regular threats to kill her.
He became incensed when he thought she was seeing other men and turned up to a club armed with a hammer on one occasion.
On the night she died the pair had a violent argument in a café, before she agreed to go home with him.
Turner claimed during the trial that he had grabbed her around the neck when she physically attacked him, but insisted he had not intended to kill her.