Failure to disclose a person's criminal history may have cost girl her life.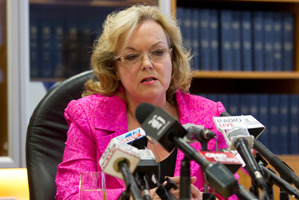 The Government will review rules on disclosure of criminal histories after the revelation that Jade Bayliss' murderer had killed before.
Justice Minister Judith Collins yesterday acknowledged gaps in the sharing of information between New Zealand and Australia, and the possibility that privacy laws prevented information being passed on.
Ms Collins said the exchange of information was complicated by each Australian territory and state having its own jurisdiction, privacy laws and police force but said something needed to be done.
Her comments came after it emerged police had been unable to tell Jade's mother, Tina, that her daughter's murderer, Jeremy McLaughlin, had been convicted of killing 14-year-old Phillip Vidot in Perth in 1995. He bashed the teenager with a cricket bat, while a mate ran him over.
Details of that crime could only be reported after he was convicted of murdering 13-year-old Jade.
New Zealand police were told about the earlier crime when McLaughlin was deported in 2001.
But Jade's family did not know, despite Tina approaching police with concerns about McLaughlin's behaviour days before Jade was killed.
Detective Inspector Tom Fitzgerald, Canterbury police criminal investigations manager, said their hands were tied.
"If a person has legitimately completed their sentence served in another country and been released, New Zealand authorities have no legal mandate to impose further conditions upon their release.
"Under New Zealand law there are constraints on what police can disclose to other parties about a person's previous criminal history."
McLaughlin was originally charged with Phillip Vidot's murder, but in 1997 a jury acquitted him and co-accused Craig Brian Wood and instead found them guilty of manslaughter, sparking national outrage.
McLaughlin, then 19, was sentenced to 12 years in jail but served only four before being deported. New Zealand police were advised of his deportation through the NZ Police Liaison Office in Sydney, which had been advised by Australian immigration authorities.
Detective Senior Sergeant Steve Dunn of Interpol New Zealand said in general terms the more information that could be shared between countries, the easier it would be to minimise the risk of reoffending.