Antarctica team focus on keeping safe and healthy during continent's dark deep freeze.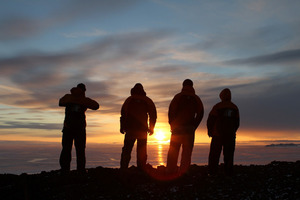 While most of us take sunsets for granted, the last rays of sunlight are not to be missed in Antarctica.
And there's good reason - those wintering there aren't due to see the sun again until August 19, thanks to the white continent's position at the tip of the globe.
The winter crew at Antarctica New Zealand's Scott Base marked their final sunset with a lunch of bagels as they prepared for the darkness ahead.
Staff member Mike Rowe described the moment the sun fell behind Mt Erebus and beneath McMurdo Sound as "very atmospheric". By yesterday, daylight had diminished to just 59 minutes.
There were no illusions among the 15 staffers staying on that life was about to become more challenging.
Simon Trotter, Antarctica New Zealand's programme support team leader, said the team were "all geared up" to cope with several months without daylight.
"All of the team are focusing on keeping safe and healthy and we have a number of sunrise-lamps that slowly illuminate to help them maintain their sleep patterns."
They had been busy bringing items inside that could get mislaid and layering their clothing to ensure winter warmth, he said.
"The ambient temperature there at the moment is minus 38 to 40 degrees, which is not uncommon, and if it gets really cold, it'll get closer to minus 50 degrees.
"If you also have wind on top of those temperatures, they're going to be much colder than that still."
Yet there were staff who actually preferred to work the winter months.
"Mechanics and engineers are quite interesting characters, but some of those guys just love that project work, when they can carry on and get some of it done."
And while the freeze meant more time inside, he said there was still much to keep the team entertained.
A gym, library and movie room, social functions with McMurdo Station crew 3km away and sports activities - indoor golf and darts tournaments among them - would help keep spirits high until the sun returned.
Time to chill out:
• Sunrise 11.46am, sunset 1.56pm
• Yesterday: Sunrise 12.15pm, sunset 1.11pm
• Today: No sun
• August 19: Sunrise 12.13pm, sunset 1.43pm