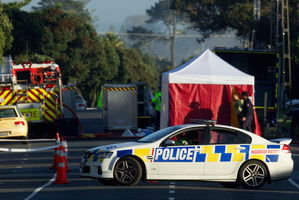 Neighbours of the P lab that exploded in a Mount Maunganui home say it is "horrible'' and "disturbing'' to live near such a dangerous place.
About a dozen Oceanbeach Rd residents were evacuated after the methamphetamine operation in the basement at the back of the split-level house blew up shortly after 3.30am yesterday.
A 57-year-old man at the house was last night in Waikato Hospital in a critical condition with serious burns to his hands, arms and face. Police have spoken to another man at the house who fled before officers arrived.
First-response firefighters, police and ambulance officers had to be decontaminated and the area cordoned off as specialist P-lab officers took over.
Three ambulance officers suffered smoke inhalation. Two were treated and discharged, and the third received additional monitoring and treatment before being released from Tauranga Hospital.
Fiona McAllister, who lives next door to the P lab, told the Bay of Plenty Times she was asleep at the time but soon after her partner awoke to a noise.
She later discovered the sound was one of the occupants of the house throwing some of their gear over the fence between the two properties.
"We thought it was one of the cats in the garage but it was actually them throwing some of their stuff over the fence. We saw the lights on the street and thought it was a house being moved, which normally happens at that time of night, but it was actually fire engines. After that, we were expecting a knock on the door.''
Miss McAllister said the knock eventually came about 4.50am and police told them to evacuate.
She said the house had always been busy with lots of people coming and going.
It was "horrible'' to have been living next to a P lab.
Another neighbour, Sylvie Williams, said she believed it was the blast that woke her about 3.30am.
"I think I probably woke up because of the explosion, I just didn't know what it was. I went outside and I could see all this smoke coming from the house.
"The police came to our door at about 5.30am and said we need to leave because there's a meth lab two doors down that exploded and the guy was really bad with burns to his chest.''
Mrs Williams said it was "a little disturbing'' to have a lab so near her house because Oceanbeach Rd was a good area.
She said the occupants often had a fire burning in summer.
Val Kivell, who lives several doors down, said: "I'm very surprised as this is a nice area, it's mostly retired people here. We get the odd person robbing the local dairy but definitely nothing like this. It does makes you think about the Boston blasts a bit.''
A 54-year-old man who lives in a flat next door to the blast house recalls hearing the noise of a compressor starting up before the drama unfolded.
Patsy Haigh, five doors from the P-house, said: "This is supposed to be one of the top addresses in New Zealand to live, then we have something like this. It's quite bizarre.''
The Auckland-based clandestine P lab team removed a number of items of interest from the property yesterday.
Cordons were in place between Girven Rd and Concord Ave for most of yesterday but by early afternoon occupants returned to their homes. Last night the house was still under guard.
Most of the damage was internal and contained to the basement, police said.
No arrests have yet been made.
For more articles from this region, go to Bay of Plenty Times