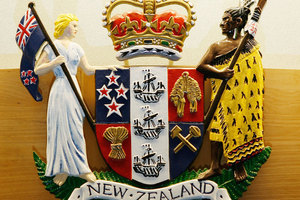 A highly manipulative fraudster who conned a former boyfriend out of $80,000, wrecking his business and "destroying his life", has been jailed for four years today.
Convicted con artist Diane Louise Boyd, 47, preyed on men who thought they were entering into a "romantic and trusting relationship" with her, the judge said.
But once gaining their trust, she would steal from them in all manner of ways - by using credit cards, tapping into their bank accounts, and forging signatures.
She managed to convince one victim, who she met through the NZ Dating online service, that she could do a better job of handling his personal and business accounts, and so he handed over his online banking details.
When she went onto his computer, she found "risque" photos and later, when the victim discovered her scamming, she threatened to unveil nude photographs of him unless he handed over cash and property.
Now, the man who lost $80,000 has been made bankrupt, he's lost his business, been forced to move in with his mother, and struggles to speak with mates because he "feels such a fool", a judge said today at the High Court in Christchurch.
Justice John Fogarty was "quite moved" and alarmed that Boyd had "destroyed" the life of the man referred to in court only as 'Mr E' as he jailed her for four years and two months.
She had pleaded guilty to 120 charges, including fraud, theft and blackmail.
Mr E was one of several men that Boyd, also known as Retahi and Goldstone, targeted for her crimes, most of which took place in Invercargill, and later when she fled to Christchurch.
She siphoned off money and also applied online, under the victim's name, for credit cards which she used to buy goods and services.
Boyd obtained thousands of dollars in cash, a car, furniture, clothing, electronic goods, and services during a crime spree in 2010 and 2011.
The offending has had long-lasting effects of many victims, who have lost substantial sums of money, but also had their credit rating affected, Justice Fogarty said.
Defence counsel Serina Bailey said Boyd was diagnosed with a borderline personality disorder, while Justice Fogarty said she had a highly vulnerable personality structure, and noted she was well-known to mental health authorities.
But Crown prosecutor Claire Boshier argued that Boyd should not be given a discount on her sentence just because of that.
Ms Boshier also said the prospect of $100,000 in reparation was slim, given that Boyd would only go onto benefits once she was released from jail.
Judge Fogarty agreed, saying reparation would probably only give false hopes to the victims, but adjourned his decision on reparation until later.
He told Boyd that she was at high risk of reoffending on her release. He urged her to receive treatment for her gambling problem, and to "gain some control over your behaviour so you don't cause this type of harm over other men in the future".
- APNZ