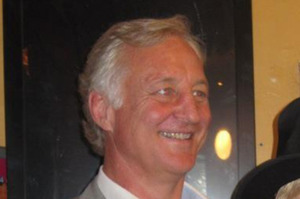 A former Wellington rugby player died after having shoulder surgery that was performed in an upright position - a procedure that increases the risk of impairing blood flow to the brain.
The "beach chair position" - widely used in New Zealand - has become a focus of a Sydney inquest into the death of Marc Verhoeven.
The 50-year-old died three days after an operation to repair a rotator cuff at Sydney's St Vincent's Private Hospital in 2011.
A friend said yesterday the injury had its origins in a game between Wellington and France.
An inquest into his death has been told the former Wellington NPC captain and father of three was put in the beach chair position for his operation, meaning he was semi-upright at a 60 to 70-degree angle.
The position is commonly used in New Zealand, mostly for shoulder surgery.
It gives surgeons better access, but also has disadvantages, including an increased risk that the blood's flow to the brain will be impaired.
The inquest heard that anaesthetist Dr Emma Halliday briefly left the operating theatre to check on another patient at the beginning of the surgery. While she was gone a low blood pressure alarm went off.
Mr Verhoeven had a catastrophic stroke on the operating table because of a lack of oxygen to his brain.
He did not wake up from the anaesthetic and died three days later.
Mr Verhoeven's surgeon, Simon Tan - who said he had performed the operation 1600 times without incident - told the court he had a "vague understanding" of journal articles and discussion about issues with the beach chair position, the Sydney Morning Herald reported.
But he said monitoring the blood pressure and heart rate was the anaesthetist's domain.
St Vincent's Private Hospital introduced new guidelines for surgery in the beach chair position after Mr Verhoeven's death
The inquest will assess those changes and whether all hospitals should adopt similar guidelines.
A specialist anaesthetist at Auckland City Hospital, Dr Nigel Robertson, said the position was commonly used for shoulder and some neck surgery in New Zealand.
"The shoulder is a very mobile joint, and positioning patients in such a way allows the shoulders to fall into a good position for the surgeon."
Dr Robertson, who has assisted in beach chair position surgeries for more than 15 years, said the position increased the possibility of impaired blood flow to the brain.
Because of that, blood pressure was very carefully monitored and sometimes elevated artificially.
"This is a tragic, tragic outcome for an otherwise relatively well-sounding patient, but nevertheless it is a recognised potential complication of this position," he said.
Mr Verhoeven, who played lock, captained the Wellington NPC team in the 1980s and 1990s, and was on the Wellington Rugby Union board.
He worked for more than 20 years in radio, and was global chief executive of NRS Media Asia-Pacific.
Friend and former colleague Chris Byrnes told the Herald: "He sent a text to a couple of us, like, 'Under the knife today', sort of thing, 'see you on the other side' - that was the last text message some of us got from him. It's incredibly sad."