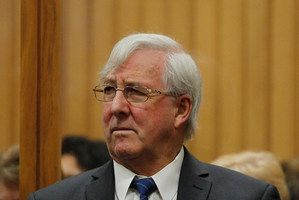 In his final moments, Tahu shouted for help and ran across a darkened service station forecourt as a stranger took aim at him with a .22 revolver.
A jury, hearing what is thought to be New Zealand's longest-running cold case to result in arrest, was yesterday told about a man maddened by a letter from his estranged wife - and a service station worker who bore the brunt of his rage.
Menzies Reginald John Hallett is alleged to have described the moment he shot down Mr Tahu outside a Turangi Shell station in the early hours of August 16, 1979 as his "flashpoint".
The "catalyst", Crown prosecutor Fletcher Pilditch told the jury, was a letter Hallett received from his separated wife a few hours earlier, telling him their daughters would be living with her instead of with him.
Hours after the killing, he is alleged to have told his ex-wife, Susan Sharpe, at her Wellington home: "I've killed someone. Yes I have."
Hallett, now 72, is on trial in the High Court at Rotorua, after pleading not guilty to the murder of Mr Tahu.
A recent law change under the Evidence Act has meant Mrs Sharpe is no longer barred from giving evidence against him - a factor that had weakened the Crown's original case.
Jurors were told there was no question that Hallett shot and killed Mr Tahu - the question rather was whether he was guilty of murder or manslaughter.
They heard how Hallett wanted one of his two daughters to come and live with him, and was very depressed after learning of his wife's new arrangement.
The court heard Hallett was in such a state that evening that he fired two shots at a pot stand inside his then girlfriend's Taupo home.
Deciding to "sort it out", Hallett set off for Wellington, pulling into the Turangi station when he heard a rattle coming from his Ford Falcon 500.
It was just after 1am and Mr Tahu had closed up the shop. He told Hallett he could not give him any oil for his vehicle.
The Crown alleges Hallett took exception to this refusal, calling Mr Tahu a "black bastard".
Mr Tahu walked toward Hallett, who drew his .22 pistol and fired it, missing with the first shot. Mr Tahu reacted by running between the pumps, shouting "help, help".
Hallett's second bullet caught Mr Tahu in the shoulder, causing him to fall. The Crown alleges Hallett then shot him in his left eye.
Mr Tahu died in Taumarunui Hospital a few hours later - about the same time Hallett is alleged to have confessed to his wife.
Hallett was arrested after an armed offenders squad stand-off.
Hallett's defence counsel, Paul Mabey, QC, told the jury there was an admission that Hallett caused the death of Mr Tahu.
"What you will focus on at the end of the trial... will be whether your verdict is murder or manslaughter."
The trial is set down for two weeks and continues today.