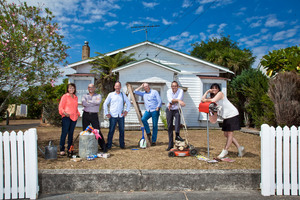 A tenant advocate is appalled at TV reality programme Renters, which has featured machete-wielders, rent absconders, hoarders and neighbourhood nuisances.
Helen Gatonyi, Tenants Protection Association manager in Christchurch, said the series - which screens on TV2 at 7pm on Sundays - was unfair because it showed tenants in a poor light and left viewers with a bad impression without showing the many good tenants.
"I just find it really distasteful. The show is so intrusive," she said.
But a TV2 spokesman said the show, made by Greenstone TV, was fair.
"Renters depicts a broad range of renting situations and it does not manipulate or create the stories. This is an observational documentary series without script or actors. All legal procedures are followed and consents are gained from all participants."
Last Sunday's episode drew 190,710 viewers, according to Nielsen.
The show promises "more rental horrors than ever". Episode seven in series three was promoted as: "Richard heads to the Hutt Valley to inspect a house vacated by a machete-wielding renter."
Property managers are featured dealing with abandoned pets, vicious dogs, backyards filled with rubbish and filthy kitchens.
David Whitburn, Auckland Property Investors Association president and a lawyer, said the show reflected reality and he quit renting out and managing South Auckland houses because they caused him so many problems.