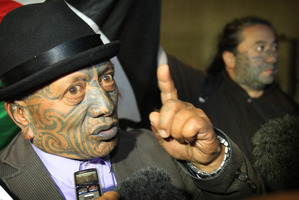 The Urewera Four have lost their application to appeal their case to the highest court in the land.
In a decision released today, the Supreme Court found Tame Iti, Te Rangikaiwhiria Kemara, Urs Signer and Emily Bailey had not suffered a ``substantial miscarriage of justice''.
"We are not satisfied that it is necessary in the interests of justice for this court to hear and determine the proposed appeals. None of the matters raised is, when properly analysed, of general or public importance.''
Iti and Kemara were jailed for two-and-a-half years last May but have since been released on parole.
Signer and Bailey received sentences of home detention.
All four were convicted of firearms charges but found not guilty of the more serious charge of belonging to an organised criminal group.
At their sentencing in the High Court at Auckland last May, Justice Rodney Hansen said the only appropriate sentence could be one of jail.
He described the rama or camps where people were trained in military exercises.
While defence lawyers had said the camps had been opportunities to learn bushcraft and skills to get security work, Justice Hansen said the jury rejected those explanations.
"In my view, they were utterly implausible.''
He said it was a mystery why Iti had devoted so much time and money to developing "military capability'' when he had been actively involved in Tuhoe negotiations before the Waitangi Tribunal.
He said while there were elements of the TV comedy show Dad's Army about the training, the intent was serious.
"As I view the evidence, in effect a private militia was being established. Whatever the justification, that is a frightening prospect in our society, undermining of our democratic institutions and anathema to our way of life.''
He said the actions had damaged the ``growing but fragile'' trust between the Crown and Tuhoe that goes back to armed conflict in the 19th century.
Justice Hansen said there had been a focus on the damage done by the police raids in the Tuhoe region in October, 2007.
"That should not divert attention from the unlawful activities which necessitated the investigation in the first place.''
- APNZ