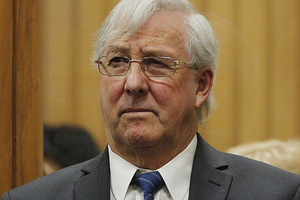 The jury in the trial of the man accused of murdering a service station worker in 1979 will need to decide whether the killing was murder or manslaughter.
Menzies Reginald John Hallett, 72, is facing trial in the High Court at Rotorua this morning after pleading not guilty to the murder of Rodney Tahu in the early hours of August 16, 1979.
While the Crown has accused Hallett of murder, his defence team has indicated it will seek a manslaughter verdict, for reasons that have not yet been revealed.
Hallett is alleged to have called his victim a "black bastard" before shooting him twice.
In his opening statement, crown prosecutor Fletcher Pilditch told jurors Hallett allegedly pulled into the Shell service station at Turangi just after 1am with a "rattle" in his vehicle, and asked for some oil.
After Mr Tahu, who was closing up the shop, could not help, Hallett allegedly called him a "black bastard".
Hallett drew a .22 pistol and fired once and missed as Mr Tahu ran shouting "help, help", the Crown alleged.
Firing again, Hallett's second shot hit Mr Tahu in the shoulder, causing him to slump over in "pain and shock", alleged the prosecution.
Hallett then stood over Mr Tahu, shooting him once in the inner corner of his left eye, Mr Pilditch said.
Mr Tahu's injuries were described as causing "irreparable brain damage" and he later died in Taumarunui Hospital.
The Crown alleged the events stemmed from a letter from Hallett's then estranged wife regarding a custody battle over one of their two daughters.
Mr Pilditch described this letter as the "catalyst".
He also alleged that Hallett had slept with his pistol under his pillow at times.
A passing motorist found 32-year-old Mr Tahu lying in a pool of blood next to a pump in the forecourt of the Shell station.
The Saturday morning rugby referee and married father of two had suffered gunshot wounds to his head and shoulder.
He was rushed to Taumarunui Hospital but died a few hours later.
The Crown alleges Hallett drove to his wife's house in Wellington and told her "I've killed someone. Yes I have."
His wife then approached police and told them what her husband had said, the court heard.
The following day police waited for Hallett to return home to Taupo. They told the court that when he saw them he did a U-turn and drove off along the Napier-Taupo Road.
This led to a standoff on the highway, during which Hallett accidentally shot himself in the shoulder and left arm.
He was taken to hospital and was later charged with firearms offences relating to a shotgun and the pistol that he allegedly used to kill Mr Tahu, Mr Pilditch said.
Mr Tahu's killing shocked the Turangi community and kick-started a major manhunt, but it remained a cold case until late 2011.
Police believed it was the longest-running cold case in New Zealand's history to end in an arrest.
Ten jurors were selected yesterday and the remaining two were picked this morning. The trial was delayed a day because not enough jurors were found. The trial is expected to run for two weeks.