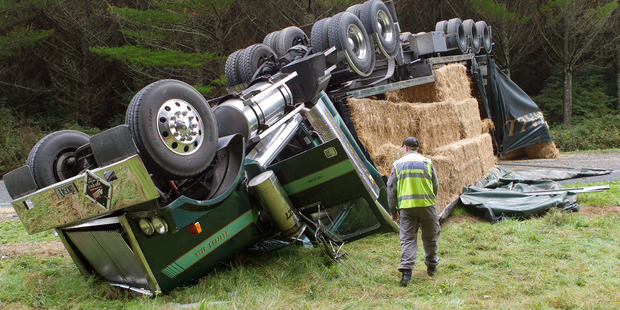 Stories making headlines across New Zealand at noon include a clip of three friends wakeboarding through floodwater hitting YouTube and a truck and trailer flips on State Highway 1.
Three guys bored with being stuck inside during Tauranga's downpour over the weekend found a novel way to make light of a bad situation.
A truck driver managed to walk away with only minor injuries after his truck and trailer flipped on State Highway 1.
An 11-year-old Carterton girl who has been seriously ill in hospital for a year has been diagnosed with one of the rarest and most severe brain diseases ever recorded in the world.
The house moved to Whanganui Prison to accommodate sexual predator Stewart Murray Wilson could be used for other high-risk offenders, Wanganui deputy mayor Rangi Wills fears.
The planned Hundertwasser Art Centre at Whangarei has moved from being a "fragile venture" scorned by many ratepayers to a predicted tourist magnet for which corporate and private benefactors have already stumped up $2 million.
A peaceful protest against mining at Puhipuhi went without disruption but raised a lot of horn-blasts from passing traffic on State Highway 1.
Maori children in Northland suffer a rheumatic fever rate similar to those seen in developing countries, and almost twice those revealed by studies elsewhere in New Zealand.
A Featherston mother of two and school teacher has recently opened her own business with the aim of brightening up Kiwi feet.
Entrances into Lynmore's new Redwood Centre are an accident waiting to happen, according to locals.
More stories making headlines today:
Hundreds escape convictions
Bay farms still in sorry state after the deluge
Wild weather hits power to hundreds of homes
RSA praise for poppy volunteers
Excitement growing for flower show
Ultra fast internet rushes into Oamaru
Penguins strike gold again
-nzherald.co.nz