Walkway sealed for public safety to allow area to stay open.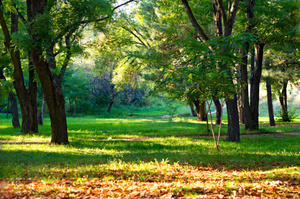 At the end of Hugo Johnson Drive, just about opposite the old Southdown Freezing Works site and the co-gen facility, there is an odd little "park" which consists of some looping paths that go around and across an overgrown water feature. The paths are chained off and some of the wooden bridges are starting to break. It looks to be around 2ha in size from the satellite pictures, so it's not small.
My questions, having set the scene, are who owns this property and what is its purpose? It looks like it could be a really nice park for workers in the area if it got a bit of TLC, but that potential is wasted. Matthew Poole, Auckland.
Around 10 years ago the former Auckland City Council discovered this little park was heavily contaminated with asbestos and investigated various remediation options for the site. Removing the contaminated material proved to be very expensive, so the council opted to cover the area with an appropriate layer of topsoil and mulch, plant the park with shrub gardens and install fencing to ensure people couldn't use the area, especially while plantings became established.
The walkway was sealed to ensure public safety and allow the park to remain open.
Parks staff have investigated the damaged items and will carry out repairs as soon as possible.
On two occasions recently I was told that the Pakuranga concrete road was built by the Americans during World War II. The people making the statements were very surprised when told the concrete roads in Auckland were built before the war. When were they built? Who built them? Who paid for them? Tim Donaldson, St Heliers.
Historical records show that in January 1931, a celebration was held to mark the opening of a two-lane concrete road running between Panmure and Howick, through what would become known as Pakuranga. Manukau County Council raised the money to build the road between Panmure Bridge and the boundary of Howick Town District, and the remainder (the smaller portion) was paid for by the Howick Town Board. I surmise that the road was designed and built by local engineers and local labour, although I stand to be corrected on this.
Over the years since it was built the old concrete road has been almost completely covered by tarseal. In April 2002 a plaque was unveiled at Kerswill Place to mark the last remnants of the original surface.
• Many thanks to all those who responded with ideas of what to do with fabric scraps. It seems that play centres, kindergartens, day care centres and primary schools welcome such offerings for collages. Also, craft groups and retirement homes can use donations of fabric pieces for similar purposes. Wool, lace and braids are also useful.