Len Brown caused Waterfront Agency to halt funding then he got ratepayers on board.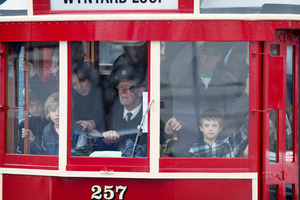 Auckland Mayor Len Brown has been a key player in withdrawing - and reinstating - funding for the two historic trams in Wynyard Quarter, official papers show.
Pressure from Mr Brown on the council's waterfront agency to reduce operating costs led to a sudden decision by the agency's board on February 26 to withdraw funds to keep the trams running.
But shortly after a Waterfront Auckland executive warned of adverse publicity about the potential closing of the trams, Mr Brown intervened to prop up the failing tram business with a ratepayer bailout, documents released under the Local Government Official Information Act show.
The tram service - an $8 million project around a 1.5km circuit of Wynyard Quarter - has gone from carrying about 15,000 passengers a month during the 2011 Rugby World Cup to between 2000 and 4000 a month. This is well short of the goal of 10,000 passengers a month.
On March 7, Mr Brown wrote to Waterfront Auckland chairman Bob Harvey to "express my disappointment" at the decision to withdraw funds without discussing the matter with him or the council.
He said he saw trams being integral to establishing a "much more public transport-focused operation" solution on the waterfront.
Following high-level discussions between Mr Brown and senior waterfront and council executives, the Waterfront Auckland board decided on March 27 that the private operator would cover all costs up to March 7.
The board sought to change the tram's project classification of "commercial" to "public" to allow for a $100,000 ratepayers subsidy of the tram service in the 2013-2014 financial year. The subsidy has still to be approved by the council.
Not surprisingly, the potential closure of the tram service rankled with councillor Mike Lee, who headed the former Auckland Regional Council that established the tram circuit.
In an email to Waterfront Auckland chief executive John Dalzell on February 28, he said: "Shutting down the tramway will play into the hands of political opponents in the volatile months before the coming local body elections [and] will not be politically acceptable to myself or the Waitemata Local Board."
Waterfront Auckland has completed an updated business case for the board to consider tomorrow on public transport at Wynyard Quarter.
On and off the rails
February 26
Waterfront agency cuts tram funding
March 4
Agency executive warns of adverse publicity
March 7
Mayor Brown calls for rethink
March 27
Agency restores funding