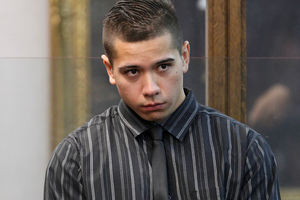 Murder accused Shayd Robinson was seen to wipe a knife across his mouth and call out something like "your blood tastes sweet", a court heard today.
Robinson, 21, pleaded not guilty in Wellington High Court to the murder of Aaron Hadfield, 27, in Stokes Valley on January 26, 2012.
The crown alleges Robinson stabbed Hadfield in the chest through the window of the victim's car after an altercation over his driving.
Robinson's defence lawyer, Mike Antunovic, said he acted in self-defence.
Witness Kerry-Anne Hirini today told the court she saw two men arguing with a man in a red car, parked at the side of the road.
The two men, one of whom she later recognised as Robinson, appeared to be punching the driver.
"It looked like they were punching him through the window and kicking the door."
She said Robinson threw "three or four" punches before the pair walked away.
Ms Hirini recognised Robinson, who she had known "since he was little".
"I said to him 'what are you doing?' He didn't really recognise me, he kept on yelling at the driver," she said.
"All I can remember him saying is that 'your blood tastes sweet'."
Ms Hirini said Robinson held a knife with a blade about 10cm long, which he wiped across his mouth.
Under questioning from Mr Antunovic, Ms Hirini said 'your blood tastes sweet' may not have been Robinson's exact words, but she was positive she heard "something to that effect".
She agreed with Mr Antunovic that what she described as pulling the blade across his mouth could have been wiping his face with his sleeve.
Ms Hirini's daughter also gave evidence, saying the driver appeared to be trying to get out of the car but one of the men was kicking the door shut.
The witness said as the two men walked away she saw a knife about the length of a pen in Robinson's hand.
"I just remember him licking it across his mouth and saying "I like the taste of your blood".
Under questioning from Mr Antunovic she agreed they may not have been his exact words, and that he may have been wiping his sleeve.
Another witness gave evidence that Mr Hadfield's car was driven at speed between Robinson and his associate William Stark.
That prompted the two men to start yelling at the driver, who stopped and reversed back, before driving off and then reversing again "about twice".
The trail is expected to last two weeks.
- APNZ