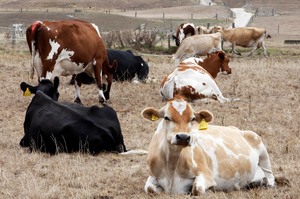 The worst drought in 40 years could cost the West Coast tens of millions of dollars in lost revenue, a leading West Coast farmer warns.
Federated Farmers West Coast chairwoman Katie Milne said the drought could have cost farmers between $10 million and $30 million in revenue from lost milk production.
She said once extra feed costs had been taken into account the figure could be even higher.
"The people that have been affected in the north end of the West Coast, there are a lot who have been putting in a thousand dollars a day in feed.
"And in lost milk production ... I know people who have lost a hundred grand, right up to $350,000."
Ms Milne said it was hard to say exactly how much the drought had cost the region, but the numbers in terms of cost and lost revenue were pretty big.
Karamea dairy farmer Cory Shearer said the drought had already cost him thousands of dollars in feed and lost revenue.
He estimated up to now he had potentially lost up to $10,000 in lost milk production, and had already spent an extra $5000 on extra feed for his dairy herd.
There would probably be an extra $2000 to $3000 on top of that in feed he was buying in now, and would continue to have to purchase before the winter.
Mr Shearer said he was currently buying in twice as much feed as he would normally expect to at this time of year.
Fellow Karamea dairy farmer Roy Galway said the drought could have cost him thousands of dollars in lost milk production.
"You won't recover it at all, it'll be gone, it's just something you don't get and you won't get, you'll have a shortfall for that season."
Production was 20 per cent down on the same time last year, which would have brought his overall milk production figure for the year down by around 8 per cent.
Mr Galway said across the Coast, milk production had been down by as much as 21 per cent.
However, because his was a well-established farm, the drought had probably affected him somewhat less than those who were newer to farming.
CRT technical feed specialist Andrew Mitchell told The News earlier this month that the burden of buying in extra feed would have been costing some West Coast farmers tens of thousands of dollars.
The News also reported in early March that milk production in parts of Buller was down 20 per cent on the same time last year, particularly around Springs Junction, Karamea and Reefton.
Ms Milne said the recent rain had helped some paddocks on the Coast recover to their pre-drought condition.
However, the drought had still cost paddocks six weeks of good growing time, and the recent grass growth had been undercut by feed deficits from extra feed consumed during the drought.
Ms Milne said the time left for the grass to recover was rapidly diminishing.
"It's going to drop off now the daylight hours are getting shorter, once this rain clears off we'll start being into the frosts."