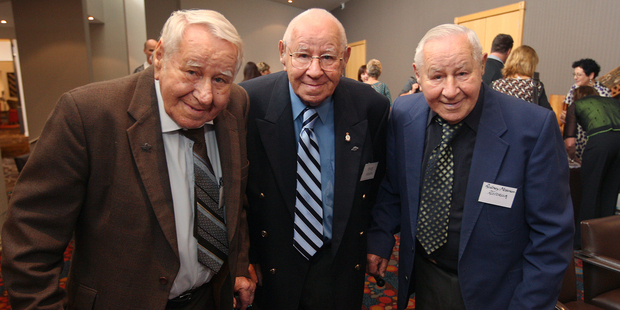 Each has his own answer to longevity, but it's likely the Mossman triplets have all reached 90 because they're so competitive none wants to be the first to die.
It's fair to say that Tim, Rodney and Henry Mossman are pretty competitive with each other - something which family say comes with the territory for the identical triplets who were three of 11 children growing up.
The trio celebrated their 90th birthday on April 16 and were joined by more than 125 family and friends at a party on Saturday in Rotorua.
Two of the three, Tim and Rodney, live in Rotorua while Henry is based in Auckland.
The family believe they could be the oldest living triplets in the Southern Hemisphere.
Henry puts his longevity down to "sugar, salt, and beer", while Tim's wife Pauline thinks it's probably the competitive streak that runs strong, with each too stubborn to be the first to die.
The three grew up on the remote Awapika Station about an hour west of Gisborne.
Mrs Mossman said the trio all have a very sharp sense of humour.
She said they had worked hard to carve out a sense of being individuals.
Henry's son David said there were a lot of pranks between the three.
Tim said one of the strongest memories of the early part of his life was serving in World War II. Henry rates being in the Navy, and meeting a wife, who also served in the Navy with whom he had four sons, as a highlight.
At their birthday the three brothers were awarded life membership of the Dilworth Old Boys Association.
For more articles from this region, go to Rotorua Daily Post