Art lovers drawn to Muriwai film-maker's evocative photographs of west coast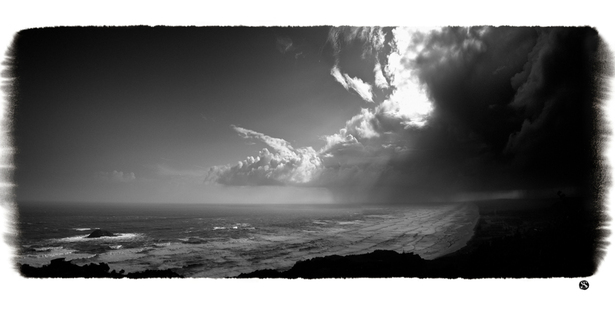 Haunting images of Auckland's rugged west coast captured by film-maker Adam Strange are proving a hit and a talking point with art lovers.
The 46-year-old commercial film-maker died while swimming at Muriwai Beach on February 27 when he was attacked by a group of sharks.
The father of one was testing a new pair of goggles in preparation for the Rangitoto Island swim when he was killed.
But his legacy lives on in a series of photographs he captured around Muriwai, the place he called home for the last three years of his life.
His collection titled Of Ocean, Earth & Air is being exhibited as part of the Muriwai Arts Group Show at the village's recently-opened surf club.
A description of the series of photographs says it tries to capture the interaction of primal elements on Auckland's west coast and offers insights into some of the creatures that dwell there.
Muriwai Arts Group Show co-ordinator Donna Hanson said about 1000 people had visited the bi-annual exhibition and more were expected before it ends on Sunday.
Mr Strange's work had been a talking point and about eight copies of his pictures had been sold, with more likely to sell.
Ms Hanson said Mr Strange had exhibited this collection before in a local cafe but organisers, seeing the strength of his talent, urged him to show his work off elsewhere.
"His work is so strong and we kept saying to him 'you need to get it into a gallery it's really good' but unfortunately he's not here to see it through.
"Some of the people who come here find it quite sad. He was passionate about Muriwai and he photographed the place where he died."
Ms Hanson said his framed works range in price from $595 to about $1500. She said signed copies of Mr Strange's works were not for sale and would remain with his wife, Meg, who the Herald understands is currently overseas.
Proceeds from the sales of his photographs will go to his family.
"Adam lived out at Muriwai and made it his subject and pretty much all of these shots are based around Muriwai, Gannet Rock and Maori Bay," said Ms Hanson.
"He was really excited about exhibiting because he wanted to support a community project that was creative-based."