New Zealand-born war heroine recalled as best-selling author reflects on Anzac Day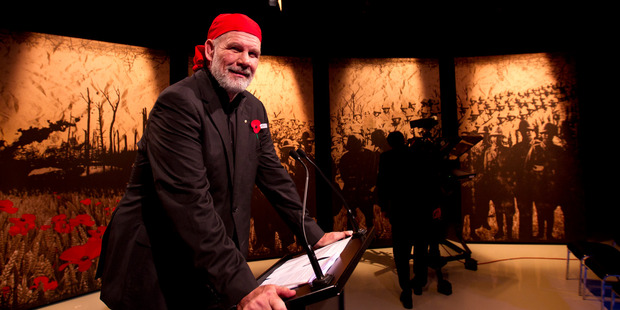 Ex-Wallaby and best selling Australian author Peter FitzSimons believes there are few better symbols of the Anzac spirit than war heroine Nancy Wake, nicknamed the White Mouse by the Gestapo during World War II.
The former international lock has published books about battles in which Australian troops played a part - Kokoda in Papua New Guinea and Tobruk in North Africa, as well as writing Wake's biography.
New Zealand born and Australian raised, she was a key British figure in the French resistance and a "staggering woman", FitzSimons says. A modern day Joan of Arc who led 7000 men during the war.
"She and I had quite a few blues early on, right to the point where we both came to the conclusion she was 10 times the man that I would ever be," he joked.
He's been asked over the years whether Wake was a Kiwi or an Aussie.
"The answer is: In Australia she was more Australian than the Australians, in New Zealand she was more Kiwi than the Kiwis and in Great Britain she was certainly more British than the British.
"She was a force of nature - let us all at least agree she was a symbol of Australian and New Zealand united military heritage."
But she was not the greatest symbol of shared values or heritage - that status still belongs to Gallipoli.
However, it's not a place he finds inspirational, instead it's a place of overwhelming sadness where 12,000 Anzacs died together. The penny dropped for him about the nature of the campaign in the late 1990s.
"I was listening to an ABC broadcast and the guy said 'something, something, something ... when we invaded Turkey at Gallipoli'.
"I went 'invaded?!' That's such an ugly word. I mean technically, it was their land. We were on boats.
"One of the problems with telling the story of the whole campaign is we were fighting a very good, and a very valiant people who were doing no more than defending their shores.
"And that's the true tragedy of the whole Gallipoli campaign is that there were 3000 Kiwis and 9000 Australians left in soil and they were fighting against good men," he said.
The future for our combined military forces was more co-operation. That was even though New Zealand had sought a much more independent international position, which he admired, than Australia in the last 30 years, FitzSimons believes.
He is giving Thursday's Anzac address for Maori Television's broadcast at 2.05pm.
He'll tell a few of his own war stories, such as being sent from the field, one of only two Wallabies ever against the All Blacks, in a test match. The way he tells it, and it's much better than the boring official reason he got binned, was that he was a monster of a player. The ref told him: "You must leave the field for their [15 All Blacks'] safety."
He was in Afghanistan recently and he says he'll keep writing war stories.
"They're so compelling. You've got the grand sweep of history, you've got nations, empires rising and falling and you've got individuals fighting with staggering consequences, with life and death.
"Show me a war story and I'll show you a strong story."