Fire hydrant thieves posed as inspectors.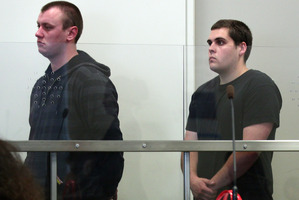 Two former fire systems contractors have been jailed for stripping buildings of potentially life-saving firefighting equipment.
Hundreds of fire system connections, called inlets and risers, were stolen from 110 commercial and residential buildings, including the Fire Service's headquarters in Wellington, during a two-month spree last year.
The brass fittings connect equipment used to fight blazes and, if missing, can put the public's safety at risk.
Company directors Reuben Timothy Cox, 24, and Ben Parry Williams, 23, were sentenced in the North Shore District Court this week to four years and three months and three years and nine months in jail, respectively.
Co-offender Michael Alapati, 27, was remanded in custody and will be sentenced this month.
Police documents revealed Cox and Williams were directors of Rapid Pipe, a company that serviced fire protection systems in large buildings.
The men, both from North Shore, had been employed by Auckland Fire Services and given keys to access the firefighting systems.
Instead of ensuring the public's safety, the men stripped the fire inlets and sold the brass to scrap metal dealers for almost $14,000.
Police said Williams and Cox travelled in a white working van and wore high-vis jackets so they appeared to be servicing the fire hydrants.
They hit hospitals, universities, shopping malls, movie theatres, hotels and factories in Auckland, Tauranga, Hamilton, Manawatu and Wellington.
In a statement to police, Williams called himself the "brass bandit".
Fire Service deputy national commander Paul McGill said the theft forced changes in firefighting operations.
"Staff had to inspect and record which buildings were affected and adjust the fire-fighting plan for the building until new risers were installed.
"We hope the sentence sends a strong signal that prevents any copycat criminal behaviour."
Fire Protection Association executive director Michael Connolly said all fire inlets had been replaced.
He could not comment on the cost but the Herald on Sunday understands building owners paid $1000 to $1600 to replace each part.
Connolly said the theft of fire inlets was a worldwide issue.
"Everyone is looking at different ways to make the parts less attractive or more difficult to access.
"It is a balancing act of easy access for firefighters and servicing, with security. There is no silver bullet."
*CORRECTION: In an earlier version of this story, we wrongly reported that convicted fire inlet thief Reuben Cox gloatingly described himself to police as a "brass bandit". In fact, police record the phrase was used by his co-accused Ben Williams.