Housing NZ orders children out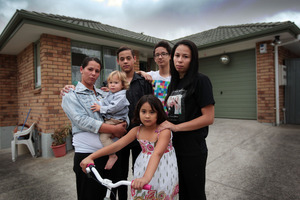 A heartbroken family have received an apology from Housing New New Zealand after being told the day after their mother's funeral that they had to move out.
Nicholas Leathart, 12, and Levi Leathart, 14, were given 21 days to leave the home they were raised in.
Their mother, Cathie Leathart, 42, died of a suspected heart attack at Auckland City Hospital on April 3 - just days after successful gall bladder surgery.
The next day, older daughters Jessica, 22 and Ashley, 19, moved home to care for their brothers.
"We moved back home straight away, but with all this going on we haven't even had time to grieve for Mum," Jessica Leathart Ah Siu said.
"I just want to look after my brothers, get into a routine and then I want some time to cry for my mother."
The family were initially told they would all have to move into Jessica's two-bedroom unit, also owned by Housing New Zealand, and put their things into storage while another suitable state house was found.
They said the upheaval and cost involved with moving was ridiculous given they were already in a perfectly good house that could accommodate them all.
They were also worried they wouldn't find another home in the area - a 20-minute walk from Avondale College, which the boys attend.
Jessica - who is mum to Mya, 5, and Max, 16 months - said the best thing for her brothers would be for her and her children, and Ashley to continue living in the family home together to support one another.
Late on Friday, after calls from the Herald on Sunday, Housing New Zealand reviewed the decision and said the family could stay at the house.
"The family advised us they want to all live together so we have been working closely with them to assess their housing needs on this basis," spokeswoman Angela Pearce said.
"As our needs assessment has shown, the family are in fact eligible for a four-bedroom home in their own right. They are staying in their late mother's Housing New Zealand home in Waterview."
Pearce said staff had apologised to the family for any distress it had caused them.
Jessica and Ashley said their mother was a generous and loving person who would be glad the family was sticking together.
Her death had left a gaping hole in their lives, made worse by the fact that the boys' father was not able to care for them, and Jessica and Ashley's father lived in Australia.
They were also struggling with an $8,000 bill for the funeral and said their only source of income was Jessica's domestic purposes benefit.
"We have had help from family, but everyone has their own lives so really it is just us," Ashley said.
"But even with all that, we are really happy we can all stay here together. It is what Mum would have wanted."