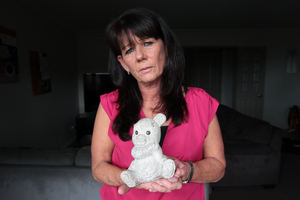 A graveside sweep of cherished mementoes has cost more than $45,000 to put right.
Almost three months ago, decorations on the graves of 174 infants at Waikumete Cemetery were bulldozed off and thrown out by Auckland Council staff.
The council has apologised and organised for decorations to be sifted out of a mulch pit so they can be returned to grieving families.
Information obtained by the Herald on Sunday showed the bill to ratepayers from that work had topped $45,000 by April 12.
The largest share of the cost - $30,384 - was paid for archaeologists and contractors to recover decorations from the pit. A further $10,000 was spent on other costs, including public notices and meetings.
No compensation had been paid to affected families.
Sharon Gray's twin boys were buried together at the West Auckland cemetery after they died within two days of being born in 1996.
Timothy and Samuel Gray were never forgotten by their family, who visited often and left gifts - always in pairs - at their grave.
Gray said the cost was "irrelevant" to her. "All I want back is my concrete slab and picket fence," Gray said.
"I told them if they can't do that I'll take my boys out, because they wouldn't be safe.
"I'd be prepared to wear the cost myself if it keeps my boys safe."
The slab had been found, and council staff would rebuild the fence, she said.
Affected families' spokeswoman Hayley Tapu said hundreds of decorations had been retrieved, cleaned and photographed. Nearly 100 items were being returned to families.
Council parks, sports and recreation manager Mace Ward said most reparations had been finished and further costs are expected to be minimal.
What's your view?
letters@hos.co.nz