Maimed men could not do their old jobs.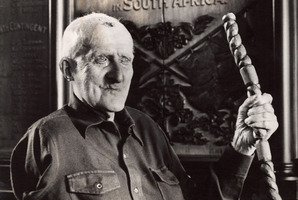 Harry "Middy" Middleton spoke very few words about the Great War.
These days, however, war records can be read online and these speak of the true horror that met the farmer from Pukeatua in Waikato when he arrived at Gallipoli.
Middleton was photographed in 1985 at the Ranfurly War Veterans Home in Three Kings.
His account of the war was brief: "I was hit on August 8. They carried me to the first-aid post on a stretcher, over rocks and stones - it was a rough trip."
The records show Middleton enlisted at Hamilton in August 1914 and one week short of a year later, he was at the Dardanelles in Turkey when shrapnel struck him in the right arm.
The date and position place Middleton at Gallipoli during the horrific mid-summer days known as the August Offensive.
The New Zealand Infantry Brigade came within 500m of the peak of Chunuk Bair by dawn on August 7 but was not able to seize the summit until the following morning.
The New Zealanders held out on Chunuk Bair for two days before two new army battalions from the Wiltshire and Loyal North Lancashire Regiments provided relief. A massive Ottoman counter-attack, led by Mustafa Kemal, then swept these two battalions from the heights. Of the 760 New Zealanders who reached the summit, 711 became casualties.
The ship Neralia took Middleton to the 17th General Hospital at Alexandria where a doctor wrote the word "amputation" in capital letters on his file and then the word "severe".
The next note on August 17 is "dangerously ill".
He lingered near death for six days before he stabilised.
Middleton was shipped to England on the Letitia in November 1915 and, despite gauze changes and prescriptions of brandy, the remainder of his arm became infected and had to be amputated also.
Harry returned to his farm with his wife, Agnes, and struggled on with one arm until 1928 when he had to sell the farm and apply for a War Pension "owing to my wife's ill health".
In 1985, the stoic former soldier said he was not bitter about his war experience.
"You never know when you are going to go - we just had to take it. My country came first."
Records don't show when Middleton died, although he was gone by 1993 when Melva Nicholson joined the home as nurse manager. "There were no Gallipoli veterans left by then," she says.
The photograph and Middleton's war record remain for posterity.
Ranfurly's former admissions manager Dr Barbara Smith who, while working at the home, did a degree on the effects of war and combat , says: "I remember the photograph well. It's absolutely striking.
"For me, it epitomised the men who never spoke."