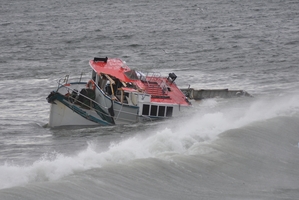 The boat that capsized near Greymouth this week will be salvaged today, the district's mayor says.
The Lady Anna capsized while crossing the Greymouth bar on Tuesday morning.
The three-man crew were left clinging to the bottom of the upturned boat. Its skipper, Nicholas Eklund, drowned before he could be rescued.
Mayor Tony Kokshoorn said the boat was found by divers at the Grey River mouth late yesterday afternoon and buoys were attached to it.
Today it will be salvaged and pulled up onto a beach and towed away, Mr Kokshoorn said.
None of the crew were wearing lifejackets when the boat got into trouble.
"We have to take a good hard look at compulsory lifejackets and they wear those lifejackets when they cross the bar.''
The area had dangerous swells and large waves, he said.
"If people are going to take a bit of a risk to go through there, and they know what the risk is, it's just nothing to put a jacket on.''
He said ideally people could wear an aircraft-style vest that could be inflated once the person was in the water.
The two crew of the Lady Anna were saved when lifebuoys were thrown to them by onlookers on the Cobden tiphead, but buoys thrown toward Mr Eklund were swept away from his reach.
A Maritime New Zealand spokesman said there was currently no law that made wearing lifejackets compulsory on board commercial vessels, or when crossing a bar, although they did have to carry jackets and they had to be easily accessible.
"The wearing of lifejackets falls under the responsibilities of the skipper,'' the spokesman said.
- APNZ