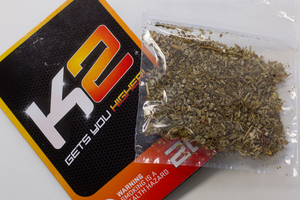 Another aggravated robbery of a Dunedin dairy this week has prompted police to warn shopowners about the dangers of selling synthetic cannabis products.
There had now been seven aggravated robberies involving synthetic cannabis in the Southern district during the past two years, with the majority in the Dunedin area, Proactive Policing Team Sergeant Chris McLellan said yesterday.
"It is getting to the point where we are stressing to the dairies not only are they putting themselves at risk, but putting their customers at risk also.
"They need to seriously consider their situation because the product will cause them danger."
In the latest incident, the Balmoral Dairy on Hillside Rd was robbed at knifepoint of cash and synthetic cannabis products, and a shop assistant assaulted on Wednesday night.
Senior Sergeant Steve Aitken said the alleged offender was described as being a male Caucasian, wearing a blue hoodie, a peaked hat, and carrying a skateboard.
Police were only told of the robbery yesterday morning, "and the late report certainly hinders any effectiveness of a forensic examination", he said.
Last Friday two offenders, including one armed with a knife, robbed the Willowbank Dairy on George St, making off with cash and with synthetic cannabis products valued at more than $5000.
Police earlier this week visited retailers to "express our concerns" about the product, Sgt McLellan said.
Despite some dairy owners and staff being threatened with violence during robberies, or assaulted as in the latest incident, they continued to stock the product due to its profitability.
Sgt McLellan said police "can't wait" for legislative changes concerning synthetic cannabis, as the product was having a major impact on the health system and the justice sector.
"They are poisoning people that are buying it $20 at a time.
"There is a significant cost to taxpayers in regard to the imprisonment of offenders and police resources."
A permanent psychoactive substances regime will be in place by August, meaning manufacturers and distributors will have to prove products are safe before they are allowed to sell to retailers.
Products that pass will still come with age and other restrictions.
Dunedin Police had been collating information concerning synthetic cannabis, "whether it be disorder, violence, family violence, to more serious offending".
"The frontline officers have been recording it on our offence reports, so we can talk about it with confidence now, and it is the main subject of conversation on a daily basis for us.
"The frontline officers have just had enough."
Dunedin Police's proactive approach to synthetic cannabis has resulted in the sharing of information with police in New South Wales and Queensland, and in recent times their counterparts in Whangarei, Taupo and Christchurch.
***
Mentions of the synthetic cannabis product K2 during Dunedin District Court cases in the past two weeks:
• A serious problem with K2 changed a Dunedin teen, who appeared on charges relating to a 46km police pursuit.
• Alcohol, K2 and jealousy were all involved in offending by a 23-year-old Dunedin man at the end of his relationship with his partner.
• A pre-sentence report noted the mother of a 17-year-old supplied him with K2 as "she believed it kept him calm".
• A 22-year-old's man involvement in a crime spree coincided with the breakdown of his relationship and his abuse of K2 and alcohol.