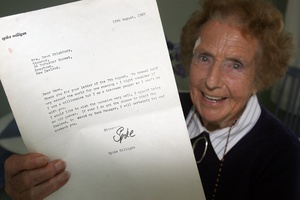 In the lead up to Anzac Day, Dawn Wylie-Stichbury decided to dust off the family archives and re-discovered a gem of a letter sent to her by celebrated British comedian Spike Milligan 25 years ago.
The former Goon Show script writer was obviously in fine form when he penned the letter - in reply to a "cheeky" invitation the Greytown woman had issued to him - describing himself as a "trainee pauper".
Mrs Wylie-Stichbury is the widow of World War II soldier John Stichbury and back in 1987 the couple were part of a committee organising a 6th Field Regiment Reunion to be held at Solway.
Mrs Wylie-Stichbury said she was the only woman on the committee and got sick and tired of listening to the men reliving every battle they had been in and of "re-seducing gorgeous females".
So, as the former soldiers often spoke of Gunner Milligan who had a notable war record and who wrote hilarious accounts of his war years, she decided to go a step further.
She wrote to Milligan telling him what a "shot in the arm" it would be if he could surprise the old soldiers and the hundreds of people attending the reunion by showing up for it.
"I told him we loved his war books and if he came out he could stay at the Solway Park or at one of our homes and I would even fry an egg for him."
The letter was duly posted and slipped her mind until her bewildered husband told her on her return home from work one day that she had a letter from London.
"He offered to open it but I said 'don't you dare'."
Unfortunately Milligan could not make the trip but the reasons he gave were tongue-in-cheek.
The comic told Mrs Wylie-Stichbury he would have set sail for New Zealand "if I was a millionaire but I am only a trainee pauper".
He offered an olive branch, though, by saying if he ever had to flee to this country "to avoid my bank manager" he would certainly try to contact her.
His decision to reply to a Kiwi woman's invitation has warmed the cockles of her heart since.
For more articles from this region, go to Wairarapa Times-Age