Send us your weather photos and videos here.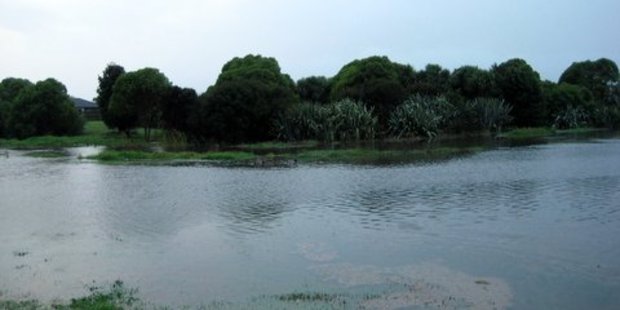 Residents in Auckland, the Waikato and Bay of Plenty are bracing for another deluge after torrential rain in the early hours of today caused major flooding to Bay of Plenty homes and businesses.
"The downpours are torrential and are likely to lead to more pockets of flooding across the cities this evening" says WeatherWatch head analyst Philip Duncan.
Bay of Plenty police have warned drivers to stay at home and avoid driving after the flooding made driving conditions extremely hazardous.
One casualty of the Bay of Plenty floods was the Four Nations hockey being played at Mount Maunganui.
The game was subjected to a torrential downpour which led to play between the Kiwis and Korea being called off.
Korea led 1-0 at the time and were awarded the match, unless the weather clears enough to allow play to resume - which is not considered likely.
Torrential downpours also struck Auckland today making driving conditions treacherous.
Philip Duncan said the instability was being caused by two lows in the Tasman Sea, and more heavy showers were expected for the rest of the day and tomorrow.

There were no reports of flash flooding in Auckland though a Storm Alert for flash and surface flooding will continue for the next few hours around Auckland, especially between Kaipara Harbour, Whangapaoroa and Auckland City.
Motorists in Auckland are advised to drive with their lights on and be prepared for sudden near zero visibility in torrential downpours - and to be on the look out for dangerous surface flooding.
Satellite TV may also be cut to some viewers due to atmosphere conditions.
Residents are advised to stay away from flood drains and small streams and to stay indoors during intense downpours.
Some thunder is also expected - the lightning tracker has become more active this afternoon, however rain is still the primary concern, especially with autumn leaves blocking some drains and gutters.
MetService are forecasting further thunderstorms and possibly small tornadoes.
About 100 homes were flooded this morning and a further 200 millimetres of rain is forecast for the western Bay of Plenty.
Newstalk ZB reports that the city council is handing out sandbags in Mount Maunganui's low lying areas.
"We have heard that the council are handing out sand bags in some parts as well, because they are expecting more rain in a lot of the low-lying areas.
"And there's been some damage to the boat ramp at Pilot Bay, and we've also had reports some sewage has actually gotten into the water around Pilot Bay"
Heavy rain and flash flooding caused havoc for homeowners earlier today.
Some drivers were trapped in half submerged cars this morning, with water up to the windows.
Bettie Monroe clothing store owner Helen Fraser said it was not the best start to the school holidays.
"The beautiful art shop next door is flooded, Starbucks across the road is flooded, a number of restaurants and cafes and shops are all flooded.
"So all the shop people are just out mopping. As I open the back door to our shop, I just see our whole shop is under water.
"But not only is it water it's also mud and soot because it's just drained right down to our back entrance and gone straight into our back door, all through out shop.''
Emergency services are now over the hump of the flood-related calls, after being swamped with than a hundred incidents this morning.
Northern fire communications shift manager Steve Smith said the rain started about 3am and by 6am nearly 75mm had fallen.
"It came down in one bucket load - it was amazing.''
He said by 7.30am the waters were starting to recede and were starting to flow out through the drains "which were obviously blocked and couldn't handle the flow''.
It would not be known how much damage was caused until the water was totally drained away.
There had been no reports of injuries, Mr Smith said.
- Newstalk ZB/ APNZ/ WeatherWatch