Series about Brit who murdered one wife and tried to kill Kiwi bride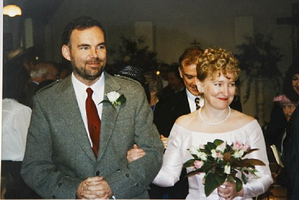 The crimes of would-be serial wife killer Malcolm Webster - dubbed the "Black Widower" - will be turned into a reality television drama.
Webster was jailed for at least 30 years for murdering his first wife, Claire Morris, in 1994 - by faking a car accident - before staging a similar attempt to kill his second wife, Felicity Drumm, a nurse from New Zealand.
In both cases Webster had taken out lucrative life insurance policies on the women, and attempted the ruse a third time with another woman, who gave evidence at his trial.
The 53-year-old has lodged an appeal against his convictions, but the story that made headlines around the world is going to become a three-part television series, according to UK media.
The drama series is being co-written by the head of factual drama for ITV, Jeff Pope, and each episode will focus on the English killer's relationships with each victim.
League of Gentleman star Reece Shearsmith will appear as Webster but no announcement has been made on who has been cast as Ms Drumm.
The drama is being co-produced by Pope, who also worked on the highly acclaimed television drama Appropriate Adult, about English serial killer Fred West. The drama was nominated for three Baftas in 2012.
Ms Drumm's sister Jane told the Weekend Herald that the family did not want to make any comment about the series.
However, Claire Morris' brother supports the production, which has a provisional title of The Widower.
"I'm quite happy they are making the series as it's being done respectfully and people will get to see a bit more about Claire," Peter Morris told STV news.
"During the trial, I struggled with how much of it was about Webster. My sister's personality never got the chance to shine through, but now people will get the chance to see what she was like. I think Claire would approve of what is being done and that's the most important thing."
The Queen's Counsel who presented the evidence against Webster said he would be remembered as one of the "most notorious murderers of our modern times" with one flaw - he couldn't stop himself.
Webster met Ms Drumm while they both worked as nurses in the Middle East and they married on the North Shore after a whirlwind romance in 1997.
Webster began his manipulative campaign almost immediately. Ms Drumm began complaining of blackouts and falling asleep for days at a time. It later transpired she had been drugged.
There were strange fires in their homes in Scotland, and later New Zealand, which were shrugged off as coincidences until the couple were involved in a serious car crash on the Northwestern Motorway in 1999.
Webster had been driving erratically and a can of petrol and a cigarette lighter was found in the boot.
The Drumm family then discovered he had withdrawn all the money from the joint bank account and forged life insurance policies for his wife.
Arrest warrants were issued for Webster in 2000 and police reinvestigated the death of his first wife Claire Morris in 1994.
She had died in a fiery car crash which was written off at the time as an accident. But after Ms Drumm's experience, the death was treated as suspicious and tests on a preserved tissue sample showed traces of temazepam, a drug used for sedation.
Then Scottish police learned he was to marry a third woman and Webster's twisted plot was unravelled.

- Additional reporting: Anna Leask