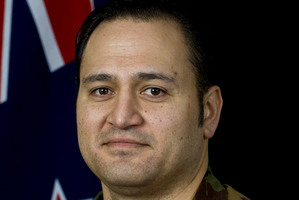 Dean Rennie: Gallantry Medal
It's every soldier's greatest fear - the unseen enemy. The improvised explosive device (IED) buried beneath the road, which is detonated by Afghanistan insurgents who lie and wait for Coalition soldiers to pass.
Staff Sergeant Dean Rennie spent six months with a specialist US bomb unit, getting into the minds of the deadly bomb builders to see how they tick.
As the only non-US serviceperson attached to the Combined Explosive Exploitation Cell at the Forward Operating Base Salerno in Khost Province, he saw it as a chance to put all of his training and knowledge into practice. When a bomb went off, the soldier from Royal New Zealand Army Logistics Regiment was sent to recover fragments and learn how the device worked.
The 42-year-old father-of-two, whose parents had both served in the RNZAF, often came under enemy fire and also took part in treacherous route clearing patrols - hunting out explosive devices.
From the information he gathered, Staff Sergeant Rennie was able to identify individual IED builders, leading to the detention and prosecution of many insurgents, while the lessons learned were able to be shared throughout the theatre. Now, his fearless feats, between October 2010 and April 2011, have led to him being awarded the Gallantry Medal.
"In one of the most active IED environments in the world, and in one of the most dangerous appointments in the theatre, Staff Sergeant Rennie constantly placed himself at risk in order to protect Coalition forces and local civilians, and to disseminate potentially life-saving intelligence about insurgent operations in Afghanistan," his citation reads.
- APNZ