Leon Smith died in action not long after the mission for which he has been decorated in Defence Force gallantry awards announced today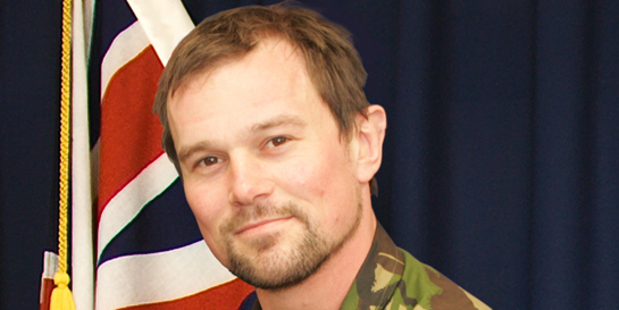 Leon Smith: Gallantry Decoration
With his colleague's lifeless body lying nearby and insurgent fire around him, Lance Corporal Leon Smith's back was to the wall. But the New Zealand soldier wasn't leaving without his friend or without completing the mission assigned to him.
The two NZSAS soldiers were in Afghanistan as part of a squad that was said to be mentoring the local crisis response unit but found themselves in the heat of the action as they attempted to rescue staff hiding in a safe room at Kabul's British Council building.
Despite fortified double walls, an airlock entry system and heavily-armed retired Gurkha soldiers and private security contractors to protect their staff, the compound came under siege when five Taleban fighters each wearing with explosive vests and armed with rocket-propelled grenades, heavy machine guns and AK-47s stormed the grounds in an early morning raid on August 19, 2011.
The New Zealanders responded but Lance Corporal Doug Grant, a father of two on his second tour of duty of Afghanistan, went down - a 7.6mm bullet went through the arm hole of his body armour and pierced his heart - as he tried to get a view of the insurgents' position from a flight of stairs. Corporal Smith could see his friend but needed clearance from his troop commander to render first aid to him and was ordered to wait for a ballistic shield.
His following actions would earn the 33-year-old Wellingtonian a New Zealand Gallantry Decoration. His citation reads: "During this period Lance Corporal Smith's position was receiving a significant volume of insurgent machine gun and rifle fire".
"Once Lance Corporal Smith received the ballistic shield, he took two deep breaths, gave his Troop Commander a positive nod and the 'go' call was issued."
Under covering fire, Corporal Smith jumped into the fray as he leapt over a wall and across exposed and open ground to where Corporal Grant had been shot as bullets whizzed around him. He gave medical aid to his friend before calling other SAS members to knock a hole in the brick wall of the building that he and Corporal Grant were in.
Corporal Grant was extricated to a waiting Apache helicopter but died on the flight to hospital as Corporal Smith returned to the fight, exposing himself to enemy fire.
The citation says he then helped blow a large hole in the outer wall of the compound so he and other members of the Task Force could minimise the open ground they had to cover to get to the panic room where the British captives were hiding.
He provided covering fire as the staff were rushed to safety.
The New Zealand Defence Force said through the entire incident Lance Corporal Smith displayed "extreme calmness under pressure, tremendous personal bravery, and the utmost professionalism whilst under continuous insurgent fire".
"As a result of Lance Corporal Smith's actions Corporal Grant received the best medical treatment possible, the Task Force was able to recover all five British nationals alive and the insurgent threat was neutralised."
Corporal Smith died six weeks after the attack on September 28, 2011 during an operation in Wardak province, southwest of Kabul, at a compound suspected of housing Taleban bomb-makers preparing for an attack on the capital.
His family said in a statement that they were "very proud" of their son's award. "Leon was brave but he was also a very friendly and humorous person. We are very proud of his achievements and that he is being formally recognised for risking his life in combat to assist a friend."
His mother, Mary Smith, added: "Leon was very proud to wear his uniform, and serve his country in the SAS. It was his ambition to be in the Army."
"He gave the ultimate sacrifice as many did before and after him, so we remember them with great honour, and give thanks that they will never be forgotten.
"Leon was a fine young man who put others before himself. I am pleased for Leon to receive this medal."