Surviving redundancy means taking stock, making changes and emphasising your positive aspects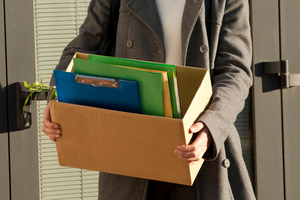 The last thing you want to hear as an employee is the rumour that your company is looking at "restructuring".
Immediately thoughts of mass redundancies rear their ugly heads with the fear that everyone is now facing Damocles' sword, waiting to cull the workforce down to a more "efficient" size.
CVs start appearing on Linkedin, phone calls to recruiters increase and the situations vacant section is left open on the staffroom table.
For Teresa Falk, at the time district manager of a major insurer in Wanganui, the wait to find out about the final decision took a long time coming.
"There was talk of nationwide restructure," Falk says, "therefore it was not a surprise when news broke that our branch was closing and we were all to lose our jobs."
However, the typical signs of stress were apparent. "You worry about your job security and your finances. Many people can't see past the fact that this has happened to them."
As well, it's natural to feel fear, distress and helplessness, with many also thinking they must be responsible in some way for this decision.
Despite these fears, Falk made the decision to embrace change and look to her passion for food.
"I decided to retrain as a chef and make a new beginning" and enrolled in a Diploma of Culinary Arts through Wanganui UCOL.
One year into the diploma, she went into business and opened Cracked Pepper Cafe in Wanganui. Business was so good so quickly, Falk had to run the cafe, as well as complete her studies.
Ten years later, Falk and Cracked Pepper Cafe have received numerous awards.
However, in the most powerful commendation of all, Cracked Pepper was written up in the greatest of all travel guides, Lonely Planet, as the top cafe in Wanganui, and made "arguably the best eggs benedict in New Zealand".
Not bad for someone who had to reinvent themselves after a redundancy.
Following Falk's example can really assist others going through the trials of redundancy.
If this happens to you, there are a number of factors you need to remember:
• Try to be as optimistic as possible. As Falk says, "there is life after redundancy!" For many people, redundancy provides an opportunity to try something new and follow your passion. Look at the things you are naturally gifted at and enjoy, and see what opportunities are out there for someone of your calibre. From a purely practical standpoint, you also want to be positive during the job hunting process, as recruiters can pick up negative vibes from a candidate, then quickly dismiss them from their shortlist.
• Take time out - Chances are you will want to throw yourself into job hunting immediately. However, after losing your job, many people experience a grieving process. This is okay and normal, so take a small amount of time to lick your wounds, straighten your head and regain any confidence that may have leaked out during the restructure. Invest time in getting mentally ready to go to interviews, face recruiters and answer curly questions about your career.
• Look forward - Falk had a number of colleagues who really struggled with their self-value and self-worth during the process. "Too many people who go through this live in the past and don't move on," she says. It's important to remember that you are not your old job, and how you view yourself should not be based on your position title and pay.
• Market yourself professionally - it's vital that you portray your skills, experience and achievements well to prospective employers, explaining how you are a candidate they should take notice of. Ensure your CV is professional, as it is your "brochure" and determines how much money you will earn for the rest of your life. The more professional you portray yourself as, the better the job offers that will come your way. If you don't feel you can do yourself and your career full justice, spend money on getting a professional CV written as the investment will pay itself off.
• Educate yourself - Books like What Color is Your Parachute and Selling Yourself to Employers provide valuable advice and insight into the world of recruitment and job hunting. By learning great answers to standard interview questions like "what are your weaknesses", you will really start to put yourself ahead of your competition.
• Leverage your existing network - Tap into your existing contacts and networks for help finding your next role. Get the word out as you never know who that "connector" could be between you and your next job. Eighty people who know you are seeking work are 160 eyeballs searching for opportunities that you may never be exposed to normally.
• Go direct - Tap into the 'hidden job market". Statistics say that only about 25 per cent of jobs are advertised in traditional media, with the remainder of job opportunities coming through networks, contacts and direct marketing. Contact employers you are interested in working for direct, introducing yourself and what you could offer their company. As well as this, employers save large recruitment fees when talented candidates appear at their door.
• Remember you are a "brand" - Update your Linkedin profile, ensuring it captures your latest experience and achievements, marketing your "brand" well in cyberspace. These days sites such as Linkedin are regularly trawled by recruiters looking for specific skills sets that they can match with their clients job specifications.
As Falk says, "redundancy is not the end of the world". It could be just the thing you need to transform your old job into an exciting and rewarding new career that you will follow for the rest of your life.

Tom O'Neil is an author, career specialist and managing director of cv.co.nz. You can email him at tom@cv.co.nz.