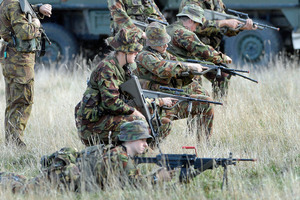 A potentially controversial documentary detailing New Zealand's role in the Afghanistan war is due to air on national television the eve of Anzac Day.
He Toki Huna: New Zealand in Afghanistan, which received government funding, has been assigned a spot on Maori Television next Wednesday night.
Ten Kiwi soldiers died during New Zealand's decade-long involvement in the war.
The cost of involvement to taxpayers was about $300 million according to the Defence Force, which is due to withdraw its final contingent of troops by the end of this month.
Documentary producer and co-director, professor Annie Goldson of Auckland University, says He Toki Huna provides an overview of the Afghanistan conflict, which is the longest war New Zealand has participated in.
Interviews with frontline soldiers and eyewitness accounts of incidents from Kiwi journalist Jon Stephenson featured in the documentary.
It sheds light on New Zealand's recent past and holds valuable lessons for the future, prof Goldson said.
Fellow director and producer Kay Ellmers said the film posed "some uncomfortable questions about the political motivations that sent young New Zealand men and women to battle in a very ill-defined war against an unclear and shifting 'enemy'."
Prof Goldson said the timing of the documentary premiere was deliberate.
"We've been making the film over the past two years and were always planning to release it as New Zealand's troops withdrew."
About 3500 New Zealanders have served in Bamiyan, Afghanistan during the past 10 years.
- APNZ