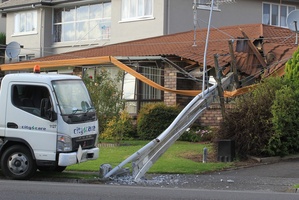 A truck driver's sneeze is thought to have sparked a dramatic crash that brought a power pole and lines down on a Tauranga house.
Beverley White was doing some book work in her spare bedroom when she heard a "big bang".
The 88-year-old could see out the window something had crashed on to her house but only discovered it was a power pole when she went outside to investigate.
A truck driver told her he sneezed before his truck crashed into the pole which then crashed down on the corner of Mrs White's Vale Street house.
The crash occurred about 8.40am yesterday affecting power to neighbouring streets.
"I heard a big bang and when I looked out the window I could see something had come down right on top of the house just above me," Mrs White told the Bay of Plenty Times.
"Luckily it didn't come through the window. I immediately left the house and went around the side of house to take a closer look and saw a dirty great power pole had crash-landed on my little house.
"I thought to myself 'what the dickens has happened here?' The driver of the truck told me he had sneezed before crashing," she said.
Mrs White said the wires on the pole were still live, and a concerned neighbour from next door came over and took her back to his place.
Senior Sergeant Ian Campion said the driver was also uninjured.
Mr Campion said the section of Vale St between Bureta Rd and Grange Rd was closed for several hours.
The power pole had to be removed and replaced, and repairs had to be made to other lines which became disconnected from several other poles.
The possibility the driver may have sneezed before hitting the pole was one of several factors that could have caused the accident, he said.
Mrs White said she could still live in her home because the damage was external.
She wanted to thank everyone who helped her, including police who rang her insurance company.
"It's been an eventful day with lots of people coming and going with offers of support."
For more articles from this region, go to Bay of Plenty Times