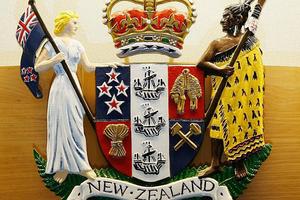 A Wairarapa man who was angry about only being given instant noodles to eat while in custody at Masterton Police Station last year has been convicted and sentenced to six months' supervision for a violent Christmas assault.
In the early hours of Boxing Day Callum Mahupuku, 20, got involved in an altercation with a man on High Street, Masterton, which eventually led to him assaulting the victim and leaving him with a multitude of injuries.
Sergeant Garry Wilson of Masterton Police told Judge Bill Hastings in Masterton District Court yesterday that Mahupuku had been with a group of young men when they got involved in a row with a rival group of men. After the argument escalated, Mahupuku and his accomplices chased the men back to one of their respective residences on High Street.
When Mahupuku caught up with the complainant, who was in his 40s, he punched him and knocked him to the ground.
The dazed man quickly stood up but he was knocked to the ground again after Mahupuku unleashed a flurry of further punches.
The injured man suffered a broken nose and a broken arm in the attack and he was also knocked unconscious for a short time.
Sergeant Wilson said Mahupuku and the complainant were unknown to each other prior to the incident.
Following the assault the complainant was hospitalised and Mahupuku also required treatment for a broken arm which he sustained during the course of the attack.
Judge Bill Hastings said that the vicious nature of the attack was unacceptable and he subsequently imposed a sentence of six months' supervision on Mahupuku and he directed him to attend alcohol and drug counselling as well as anger management.
Mahupuku previously made headlines throughout New Zealand in May last year for his displeasure at being offered instant noodles when he was taken into police custody for a 40-hour period after he breached his bail conditions by drinking beer.
He said the only food he was offered between his arrest on the Saturday and his subsequent release on the Monday afternoon was instant noodles, often without any flavouring, and one time soaked in cold water.
Mahupuku even voiced his dissatisfaction with the food on Radio New Zealand.
He told the Wairarapa Times-Age the food was terrible. "It was gross, I didn't even eat it. I didn't eat at all on Saturday," he said.
His mother, Deborah Mahupuku, said she was furious with her son's treatment.
"It's outrageous. I don't think having just noodles with cold water is a good thing - it makes me very angry."
"You would have thought they could have at least boiled a jug ... even just having noodles itself is terrible."
For more articles from this region, go to Wairarapa Times-Age