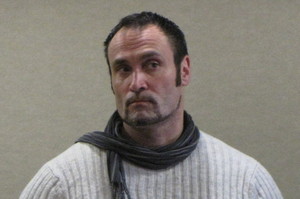 A jury yesterday took 90 minutes to find bouncer Jonathan Dixon guilty of illegally taking CCTV footage of English rugby player Mike Tindall cavorting with a former girlfriend in a Queenstown bar.
Dixon, 42, was charged with accessing a computer and obtaining property without the right to do so after he posted the footage of Tindall - husband of the Queen's granddaughter, Zara Phillips, and then captain of the England rugby team - when he visited the Base/Altitude Bar during the Rugby World Cup in 2011.
Dixon took the footage from the CCTV cameras of the bar, where he worked as contracted security.
He said he believed at the time he had the right to take the footage and do what he wanted with it.
The four-day jury trial took place in Invercargill this week.
The Crown's case was that Dixon took the footage knowing he was not allowed to, with the intention of selling it to make money for himself.
Dixon's defence was that because of a background of open staff access to, and use of, the Base/Altitude Bar's footage and the lack of any firm policy around it, he believed he had full and free access to any footage.
He took the footage with the intention of finding out how much it could fetch and presenting that information as a package, titled Project Lucy, to the bar's management for them to decide if they wanted to sell it.
In his summing up yesterday, Judge Kevin Phillips said the issues for the jury to decide were whether at the time he accessed the computer Dixon was acting dishonestly, and then, whether he believed he had the right to take the footage.
In her closing arguments, Crown Solicitor Mary-Jane Thomas said Project Lucy was "a fiction" made up by Dixon to explain to the jury why he had not told the bar's general manager, Blair Impey, about the footage until four days after he downloaded it, when his hand was forced by other events that required he get the bar's permission to sell the footage.
In his closing arguments, defence counsel John Westgate said what Dixon did lined up perfectly with his belief about his rights at the time. Dixon's intention was never to sell the footage to profit himself.
Dixon will be sentenced on June 13. Otago Daily Times