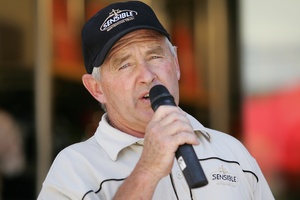 The Sensible Sentencing Trust says it will have achieved its aims when victims of crimes control sentencing - an objective it says is in tune with the general public of New Zealand.
It also says the public mood is shifting to support an embrace of the death penalty because of what it calls Parliament's failure to bring in harsher sentencing.
Trust founder Garth McVicar said: "We have a long way to go before we have a balanced justice system. When we have a balance we will have reached a stage where we can define what enough is and that will be victim's satisfaction."
Mr McVicar and lieutenant Ruth Money outlined their vision for law and order in New Zealand. They say they want:
•no bail for anyone facing a violent offence;
• fewer chances to apply for bail having once been rejected;
•appeals to carry a punitive cost if they fail, so offenders who appeal and lose go to jail for longer;
•sentences for multiple crimes to be served end on end rather than together;
•prior criminal convictions to be revealed as evidence in court and considered as adding weight to guilt;
•performance reviews for judges and the ability to sack those who did not meet standards;
•simpler sentencing laws because the current laws have been developed to deliberately confuse the public.
The trust was launched on a wave of public concern over crime and justice with a 1999 referendum on harsher sentencing winning huge popular support. The incoming Labour government was grappling with changes through its Sentencing Act in 2002 as Mr McVicar launched the Sensible Sentencing Trust.
It went on to represent the families of victims of high-profile murder cases and to have a voice on law and order issues. It also became a political player with lawyer David Garrett going into Parliament in 2008 as an Act MP after the group pledged support to the party. Its 2010 annual meeting was held in Parliament, with the assistance of Prime Minister John Key. Mr Key spoke at the conference, as well as then-Justice Minister Simon Power present Justice Minister Judith Collins.
Mr McVicar said the families the trust represented had lost faith in the justice system. "They think the system has been designed to torment them. Those families are going to be put in a predicament where the only call they have is the death penalty.
"It's not what they want at all. They want justice. But if they can't get justice ... the soundbite the media will pick up on is 'let's have the death penalty'."
He characterised the trust as a moderate player and said there had been talk about a splinter group forming to take a hard line on some issues.
He said the discussions tapped into the same frustration which would see calls for the death penalty grow unless the justice system became "open and honest".