Imminent release of last of six people jailed in 2002 over pizza man's killing reignites criticism of justice system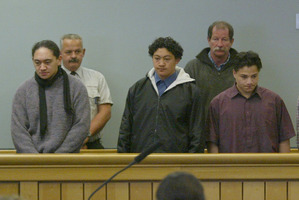 The last person sent to prison for the killing of pizza delivery man Michael Choy is about to be released - after breaking prison rules and becoming listed as a prison drug user.
It will see a return to the community of all those involved in a case which has captured the law and order debate in New Zealand and become part of the call for harsher sentencing.
But the imminent release has also brought calls for new ways of reforming those jailed for serious crimes.
Six people were imprisoned in relation to Mr Choy's death in September 2001, including Bailey Junior Kurariki, aged 12 at the time Mr Choy was attacked.
He was convicted of manslaughter and, despite receiving the shortest sentence, became the most identifiable figure because of his youth.
Others received longer sentences, including Phillip Kaukasi, convicted of manslaughter, who will be released after a parole hearing in July.
The case became a rallying cry for the Sensible Sentencing Trust.
In an interview for the Herald series Judging the Judges, trust founder Garth McVicar said the advocacy group would achieve its aims when sentences met the satisfaction of victims of crime.
He said a fair justice system was one which "reached a stage where we can define what enough is and that will be victims' satisfaction", and a lack of willingness to meet that level would bring renewed calls for the death penalty.
Mr Choy's mother, Rita Croskery, said she had accepted that the release of those who killed her son was inevitable. "For me, as far as I'm concerned, I just want them to be wiped off this Earth."
She said she believed the death penalty would never be returned in New Zealand, which meant the community was almost always going to have to deal with the return of people sentenced to prison.
"They were so young," she said of those convicted of killing her son.
"If they don't reform, you don't know what they will be up to."
She said there were those among the group convicted for Mr Choy's death who appeared genuinely remorseful at parole hearings.
Mrs Croskery said she was concerned there was not enough emphasis placed on education in prisons.
"What do they do every day? Sit there and think about what else they are going to do [when released]."
She said there was no way to compel those sentenced to take courses and prepare for release.
"They're locked up and they're not doing anything."
Mrs Croskery said Kurariki, who became the most recognisable of those associated with the crime, "didn't have much of a chance because he had such terrible parents".
"He's got a good brain. He's very smart. If he had been occupied, he would have gone somewhere."
She said she was aware of the wider factors in the backgrounds of those who killed her son and said there were early signs Kurariki was heading for trouble through police interventions when he was a child.
The most recent Parole Board report for Phillip Kaukasi showed problems as he approached the end of his sentence and release from prison.
He had been sent to a "special treatment" unit for rehabilitation and while there was discovered with a cellphone. Kaukasi's security classification was also changed after he was classified as a drug user.
Professor John Pratt of the Institute of Criminology, an expert in harsher-sentencing campaigns, said the push for victim-centred justice was out of step with Western systems.
"We don't have a justice system where the harm to the victim can be met by the similar amount of harm to the offender. If you want that, you have to go to Islamic countries."