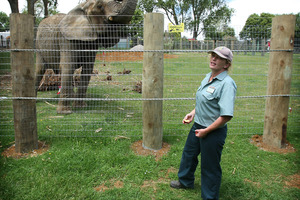 Franklin Zoo keeper Helen Schofield failed to follow her own safety guidelines on the day she was killed by an elephant in its enclosure, a coroner has found.
In his finding, released today, Auckland Coroner Sarn Herdson said "existing satisfactory protocols and established management guidelines were not followed".
Dr Schofield, 42, was crushed to death by Mila, a 3.7-tonne former circus elephant at the zoo on April 25 last year.
The incident occurred while Dr Schofield was giving a talk to several members of the public about the elephant while she was outside its enclosure.
Witnesses described the elephant becoming distressed and agitated, which Coroner Herdson determined was probably due to it receiving an electric shock on the border fence.
Dr Schofield then entered the enclosure to offer the elephant fruit.
One visitor to the zoo, named in the finding only as Mr Jensson, described Mila moving towards Dr Schofield at an increasing speed and Dr Schofield backing up and turning towards the gate, at which point she tripped and fell.
"The elephant held her with her trunk pulling her right leg trousers back into the enclosure," Mr Jensson said.
"The elephant slowly put her trunk around her mid-section and shaked [sic] her a little to get her trunk around. It was all very gentle.
"When she was picked up, she called for the elephant to let her down and tapped her on the head."
The elephant dropped to its knees and rocked its head from side to side, with Dr Schofield still wrapped in its trunk.
Dr Schofield told the elephant to let her down and it did before backing away, but it returned and rubbed its trunk over Dr Schofield.
"That was the last time we saw her moving and talking. The elephant came back twice doing the same thing," Mr Jensson said.
"It looked like the elephant was protecting her. She was still angry and there was no way that anyone could get close."
Another visitor to the zoo said he rushed up to the fence and saw no sign of movement from Dr Schofield.
"The elephant was still close to [her] and looked like it was sniffing her. I really think the elephant did not mean to hurt her."
Another zoo keeper, Sam White, said he heard a scream and an unusual, high-pitched trumpet coming from the elephant enclosure.
He saw Dr Schofield lifting her head when he arrived but she was later motionless.
She died at the zoo.
Dr Schofield was the author of all policies and protocols dealing with the elephant management programme, and a Department of Labour investigation determined failure to adhere to these protocols was a contributing cause of the incident.
These policies included one of "protective contact" when keepers would not actually go into the enclosure with the elephant but instead stay behind a protective wall of boards.
The investigation also revealed that Dr Schofield "had not had a day off since the elephant arrived some 2.5 years ago" and extreme tiredness could also have been a factor.
"It is the department's view, taking into account the possible misjudgement of the agitation level of the elephant due to Dr Schofield's extreme fatigue ... and Dr Schofield's position within the company [being in charge of health and safety], little is to be gained by recommending enforcement action be taken against Franklin Zoo."
Coroner Herdson agreed, concluding there was no need for him to make any recommendations or comments.
"It is apparent that there were existing, satisfactory protocols and established management guidelines that were not observed on the day of Dr Schofield's death.
"I am satisfied that the evidence shows that Dr Schofield's death was not due to the actions of another person."
- APNZ