Danielle Wright details some of the best Anzac parades and services in Auckland for families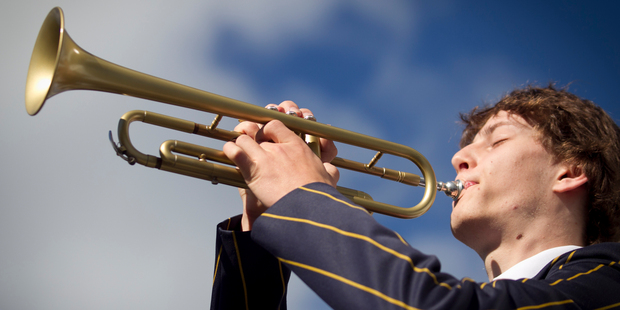 Talk to many war veterans and often the thing they remember most is the camaraderie. Returning home, some talk of it being man eat man in the scramble to find work and a civilian life. Anzac Day is a time to come together out of respect for war veterans, but also to show them, and your children, that camaraderie can still be a part of life. Getting up for a dawn service is a good way to show it.
Auckland War Museum
Museum Circuit, Parnell aucklandmuseum.com
An Anzac parade will start at 5.45am from the underground carpark on Cenotaph Rd to gather at the Court of Honour at 6am. Public parking will be provided on the sports fields. A later service will have a parade starting at 10.45am with an 11am service in front of the Auckland War Memorial Museum.
The Wintergarden Cafe across the lawn in the Domain will be open for breakfast and strong coffee from 6am.
Head back to the museum during the day for free Anzac tours on level two and poppy-making for kids in the Weird and Wonderful area from 12pm to 4pm.
Papatoetoe Parade and Service
Manukau Memorial Gardens, Papatoetoe for dawn service and Papatoetoe RSA, Wallace Rd for 10.30am service
Papatoetoe's dawn parade starts at 5.50am at the Manukau Memorial Gardens with a later parade at 10.05am starting at the corner of Great South Rd and St George St. A service will be held at 10.30am at the Papatoetoe RSA on Wallace Rd. Artist Regan Gentry's Learning Your Stripes installation will be enough of a colourful attraction for the kids to keep them entertained as well.
Coatesville Citizens Anzac Day Service
Coatesville Settlers Hall, 4 Mahoenui Valley Rd, Coatesville. Service is at 7am
For the first time, Coatesville has a special Anzac service in its historic hall. Nearby is Fernilea Cafe with an outdoor playground for the kids and great coffee and homemade treats to keep you going after an early-morning start.
Hamilton Gardens' Anzac Reflections
Hamilton Gardens Pavilion, Cobham Drive, Hamilton East. $15, phone (07) 855 1452
Cantando Choir's Anzac concert will take place at 2.30pm at the Hamilton Gardens pavilion featuring guest artists Laren Grout on flute and Melanie Lina on piano. Tire the kids out first - let them run around the gardens so they will be ready to sit and listen at the afternoon concert.
Waipu Anzac Parade
Led by the Waipu Highland Pipe Band, the parade starts at 10.45am at the Pizza barn and marches to the memorial where there will be a church service at 11am with wreath laying to follow.
Devonport Anzac Parade and Service
War Memorial, Marine Square, Devonport. Road closures from 9am to noon, visit aucklandcouncil.govt.nz for details
Always a spectacular event for adults and children, the North Shore parade commences at 9.50am with a service at 10am. This event is always full and a real crowd-pleaser. The promise of a play at the park across the road afterwards will be enough to keep the kids on their best behaviour through the service.
Piha Anzac Day Parade and Service
Marine Parade (Lion Rock), Piha
The parade starts at 1.50pm from Beach Valley to Marine Parade and finishes at Lion Rock for a 2pm service. With a dramatic wild west beach as a backdrop, this will be a memorable service.
Navy Museum
64 King Edward Parade, Torpedo Bay, Devonport. navymuseum.co.nz
For an interactive Anzac experience, take the family to the Navy Museum for paper poppy-making to add to their Remembrance Room. Watch the field grow throughout the day and hear stories at 11.15am and 1.15pm. Anzac Day hours are 10am to 5pm and it's free to enter.
Pyjama Parade
If you can't get to a service, wake the family early and tune into Maori Television's dawn service broadcast at 5.50am from the Auckland War Memorial. If you can get up for the rugby, you can get up for the Anzacs.
Also check your local library for Anzac-themed activities for the kids, for example, Waitakere Library has Anzac stories and poppy-making sessions on Monday April 22 at 10.30am to 11.30am. Visit aucklandlibraries govt.nz