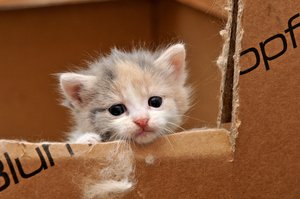 For a group of young people on a night out in Napier last weekend a 14-week-old kitten was the perfect target for violence.
They spotted it, stalked it and either kicked it or beat it with an object before leaving it crying in pain with its left leg shattered.
"Absolutely disgusting," was Napier SPCA inspector Murray Bain's response.
He said staff were equally upset when Rachel New, who adopted the homeless kitten, named Ari after it wandered on to her section a couple of weeks earlier, turned up on Saturday distressed, and cradling it.
They fell in love with the kitten and decided to give it a home.
"It's a friendly little fella," Mr Bain said, adding that was what may have led to it getting attacked.
"These people have likely spotted it on the street as they've gone along. It's very friendly and it's probably gone up to them," he said.
It appeared the kitten may have tried to get away, but was tracked and caught.
Ms New said she was woken about 1am last Saturday by what she said sounded like "two or three teenage boys" who sounded drunk.
"I could hear them saying things like 'there it is', 'get it', 'it's gone around the corner of the house'."
She then heard a "blood curdling cry" followed by laughter.
She was reluctant to go outside immediately in case the group were still loitering. When she did go out a short time later she heard the kitten whimpering under the house.
"I had the torch and it took about an hour to coax it out," Ms New said.
When Ari did crawl out she was horrified at what she saw.
"He was really shaking. He was terrified, and he couldn't walk ... he was dragging his leg behind him. It is beyond me how someone can do that," she said.
She made the kitten as comfortable as she could for the night and took him to the SPCA first thing in the morning.
"It was the first night we popped him outside because he had been going toilet in the house. I felt so bad about that," Ms New said.
Mr Bain said the kitten was taken for X-rays which revealed a major fracture.
Ms New said she and her partner did not want Ari put down as it had become a part of the family, and offered to pay what they could toward the estimated $1000 surgery carried out at Carlyle Veterinary Clinic yesterday.
The SPCA was also hoping to help, although as a voluntary organisation without government funding, it depended on donations.
"If anyone out there feels they would like to also chip in to help in any way they can give us a call," Mr Bain said.
He said staff unfortunately came across incidents involving cruelty from time to time although there had been some serious incidents recently, including a kitten in Clive being shot twice by someone using a pellet gun and a dog in Taradale found injured by pellets.
"We just want to get him home now. See him happy again," Ms New said.
For more articles from this region, go to Hawkes Bay Today